-Larry Nassar is a convicted serial child molester and former osteopathic physician
-He was found in possession of over 37,000 images featuring child pornography
-He was sentenced to 360 years of jail time for crimes committed between 1992 and 2015
-He was born in Farmington Hills, Michigan and graduated from the Michigan State University College of Osteopathic Medicine
-He is currently serving a 60-year federal prison sentence and has a net worth of close to zero
 
What Did Larry Nassar Really Do?
Larry Nassar is a convicted serial child molester, serving a sentence of up to 360 years of jail time for the crimes that he committed in between 1992 and 2015. Aside from abusing more than an alleged 250 young women and children, a dozen of whom he has admitted to molesting, Larry was also found in possession of over 37,000 images featuring child pornography. Specifically, he was found to be conducting unethical medical-turned-sexual practices on children, without the consent of their parents, sometimes in front of them, who failed to notice what was happening.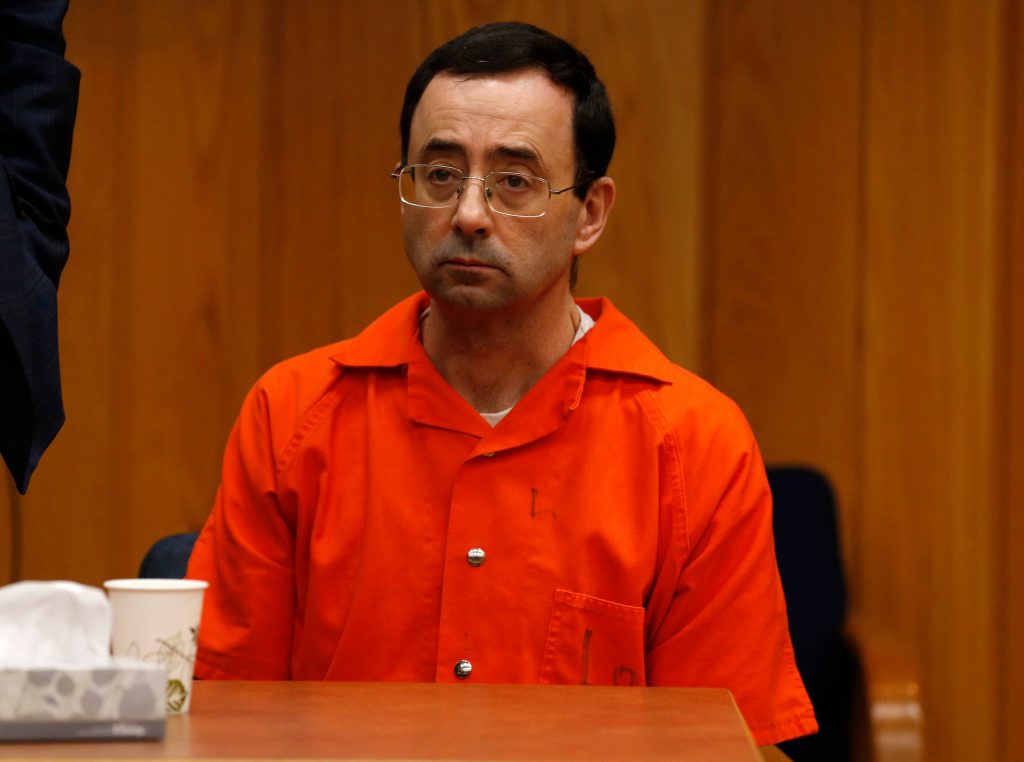 Who is Larry Nassar?
Born Lawrence Gerrard Nassar under the sign of Leo on the 16th of August 1963, in Farmington Hills, Michigan USA, Larry is a 54-year-old Caucasian convict, former USA Gymnastics national team doctor, and former osteopathic physician at Michigan State University. He is perhaps best known to the world for being the defendant in one of the most notorious trials to date, having committed a near-uncountable number of illegal acts, mostly of child molestation. However, he has also had a number of personal successes in his sometimes lucrative osteopathic physician's career since the early 1990s.
Early Life: Growing up in Farmington Hills
Larry was raised in his birthplace with his older brother Mike, by Mary and Fred Nassar (1925-2000), of unknown professions. Larry had a very early interest in gymnastics, since he began gaining experience in this field at the age of 15, while attending North Farmington High School. Larry was hired as a student athletic trainer of the women's gymnastics team, assigned this role on the recommendation of his brother, who was then the school's athletic trainer.
He matriculated in 1981, after which he went on to further his education by attending the University of Michigan, where he studied kinesiology, graduating in 1985, meanwhile also working with the university's track and field and football teams. Still, he went further with his education by ultimately graduating from the Michigan State University College of Osteopathic Medicine, as a Doctor of Osteopathic Medicine in 1993.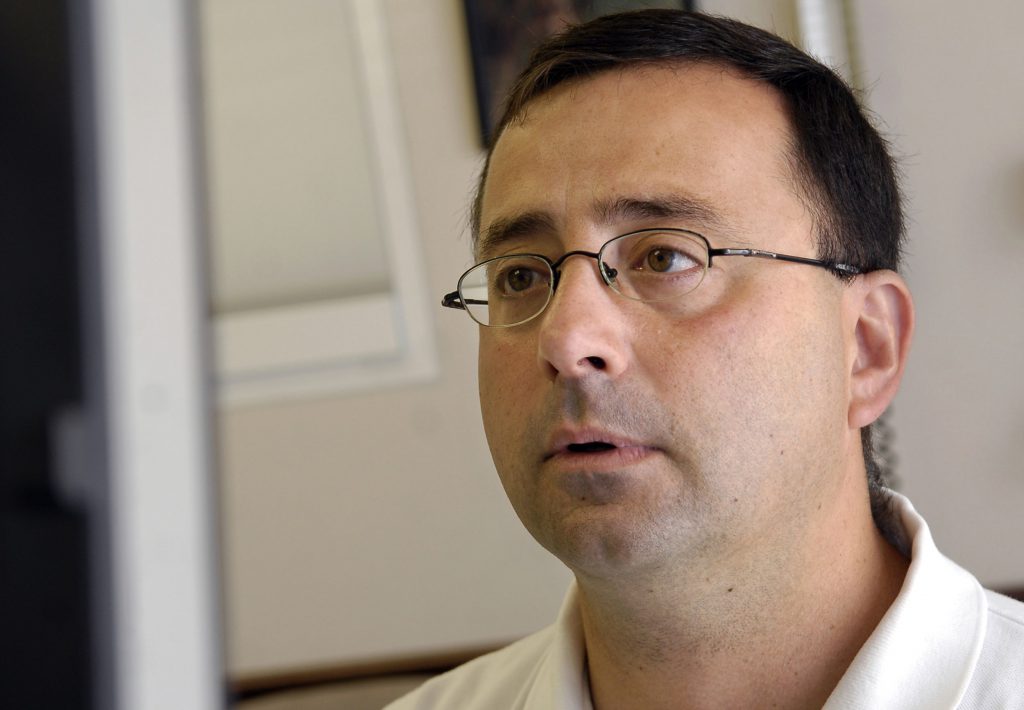 His Doctor Career
A year after his graduation, Larry started working as an athletic trainer for the US Gymnastics national team. However, it wasn't until 1997 that he completed his residency training in family practice at St. Lawrence Hospital, at which point he also completed a fellowship in sports medicine. This allowed him to work as an assistant professor at Michigan State University's Department of Family and Community Medicine in the College of Medicine, which afforded him a $100,000 yearly salary. During his career, he co-authored a minimum of six research papers on the treatment of gymnast injuries. Ultimately, he started working as a team doctor at Holt High School in Michigan in 1996, and kept his position with the US Gymnastics national team until 2015, at which point he was fired following sexual abuse allegations by some of the children he treated.
Posted by Daily Updates on Larry Nassar on Thursday, January 25, 2018
Family Life: Married to Stephanie Lynn Anderson
Larry dated his future wife Stephanie Lynn Anderson for an unspecified amount of time before marrying her at St. John's Catholic Church in East Lansing on the 19th of October 1996, and together they have two daughters and a son. Stephanie was automatically granted a divorce upon Larry being convicted, thus also receiving full custody of all three of their children in July 2017.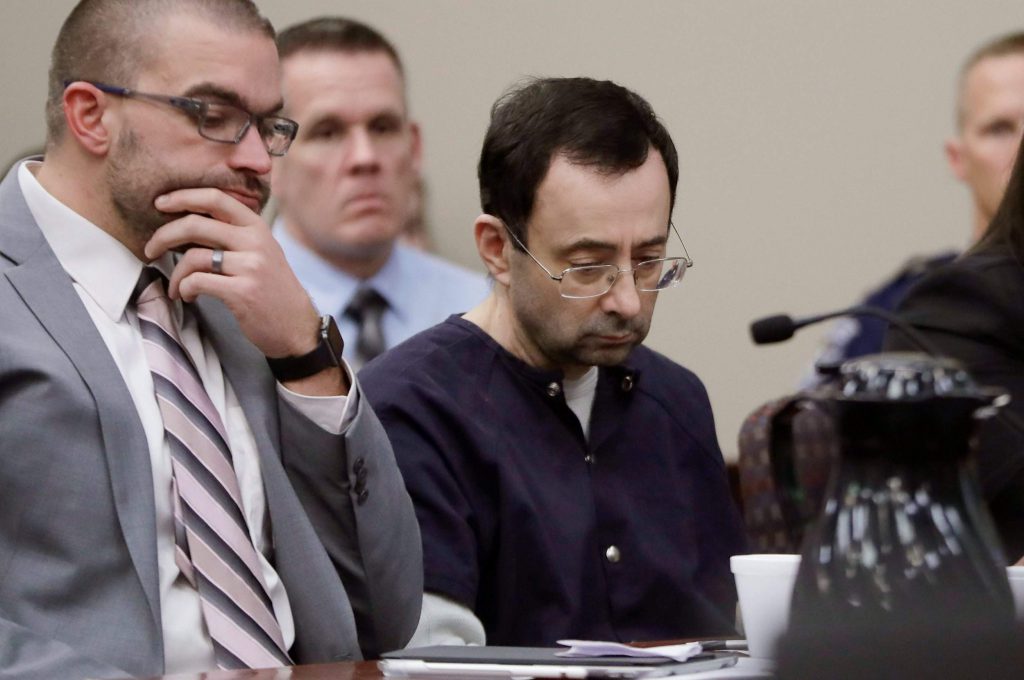 Sexual Assault Accusations
Larry's downfall started in 2015, when the US Gymnastics national team released him from service after they learned of accusations regarding his practices in the privacy of his office and home. In September 2016, it was written in The Indianapolis Star newspaper that Rachael Denhollander, a lawyer and former gymnast, was accusing Larry of sexual assault; he was subsequently fired by Michigan State University on September 20th of the same year, then in February 2017, three more former gymnasts came forward with similar accusations. As time went by, more and more gymnasts and other women in sports started confessing that they had been abused by Nassar, some of whom include Aly Raisman, McKayla Maroney, Gabby Douglas and Simone Biles, who is considered one of the best gymnasts ever to have lived. However, most of these confessions were simply considered allegations, that is until December 2016, when Larry was arrested by the FBI for being in possession of over 37,000 images featuring child pornography, as well as a video in which he is molesting underage females.
His Sentencing
Larry was charged with 22 counts of first-degree criminal sexual conduct with minors, fifteen in Ingham County and seven in Eaton County. He pleaded guilty to receiving child pornography, possessing pornographic images of children, tampering with evidence by destroying and hiding the images, as well as at least ten counts of first-degree criminal sexual conduct. While these events occurred in between 1998 and 2015, a woman came forward in April 2017, stating that Larry abused her as early as 1992, at which point he was still in medical school. Subsequently, on 24 January 2018, Nassar was sentenced by the Ingham County Circuit Court Judge Rosemarie Aquilina to 40 to 175 years in prison, while on 5 February, Eaton County Circuit Judge Janice Cunningham sentenced him to 40 to 125 years in prison. Coupled with the fact that he was sentenced to 60 years in federal prison by US District Judge Janet T. Neff on the 7th of December 2017 for his ownership of child pornography, this amounts to 360 years of prison time. That said, he is currently serving his 60-year federal prison sentence, and if he survives it, at which point he will be 112 years old, he has to serve a minimum of 40 years of his state prison sentence.
What is Larry Nassar's Net Worth?
Have you ever wondered how rich Larry Nassar is, as of mid-2018? According to various authoritative sources, it has been estimated that the current total of Larry's accumulated wealth is now close to zero. He certainly made a modest fortune as an osteopathic physician, while he earned the most from his long-term presence in the USA Gymnastics national team. As his career has come to an end, the said amount cannot be expected to increase.

Source: IMDb, Wikipedia