• Born Catherine Louise Sagal in 1954 in Los Angeles, California
• Jewish ancestry; godfather is Norman Lear
• Best known for playing Peggy Bundy in "Married with Children" (1986-1997) and Gemma Teller Morrow in "Sons of Anarchy" (2008-2014)
• Successful musician; released 5 albums since 1974
• Married to Kurt Sutter since 2004; has two children

Known for movies
Short Info
| | |
| --- | --- |
| Net Worth | $30 million |
| Date Of Birth | January 19, 1954 |
| Spouse | Kurt Sutter, Jack White, Fred Lombardo, Freddie Beckmeier |
| Fact | Gave birth to her first child, at age 40, a daughter named Sarah Grace White, on August 7, 1994. Child's father is her second husband, Jack White. |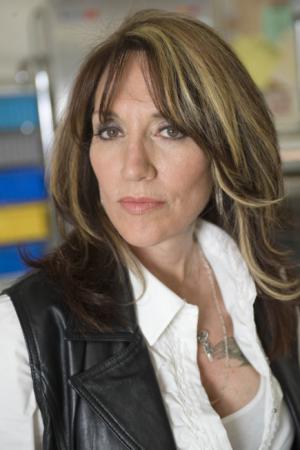 Who is Katey Sagal?
Born Catherine Louise Sagal on the 19th January 1954 in Los Angeles, California USA, she is an actress, and musician, best known to the world from playing Peggy Bundy in the TV comedy series "Married with Children" (1986-1997), and as Gemma Teller Morrow in the TV crime-drama series "Sons of Anarchy" (2008-2014), among many other accomplishments.
Early Life, Family, and Education
Katey, of Jewish ancestry, is the daughter of Boris Sagal, a famous Ukrainian-Jewish director, and Sara Zwilling, a stage actress and singer. She has four siblings, twin sisters Jean and Liz Sagal, who are also involved in the entertainment world, and brothers Joe and David Sagal. She spent her childhood in Brentwood, and though raised Jewish, she has now stated that she has no religious affinity with the Jewish religion. Katey's godfather is Norman Lear, who is a notable sitcom writer, known for work on "Sanford and Son", "Maude", and other popular comedy series. So surrounded by people from show business, Katey, became interested in acting and singing herself, and as a result enrolled at the California Institute of the Arts, where she studied singing and acting.
Career Beginnings
Katey's career started in the early '70s with a couple of roles in television films, including in "Candidate for Crime", directed by her father Boris. It wasn't until 1985 that Katey got her first recurring role, as Jo Tucker in the sitcom "Mary", which had Mary Tyler Moore as the star of the show, with Katey featuring in 13 episodes, which helped her gain the experience for her further career in sitcoms.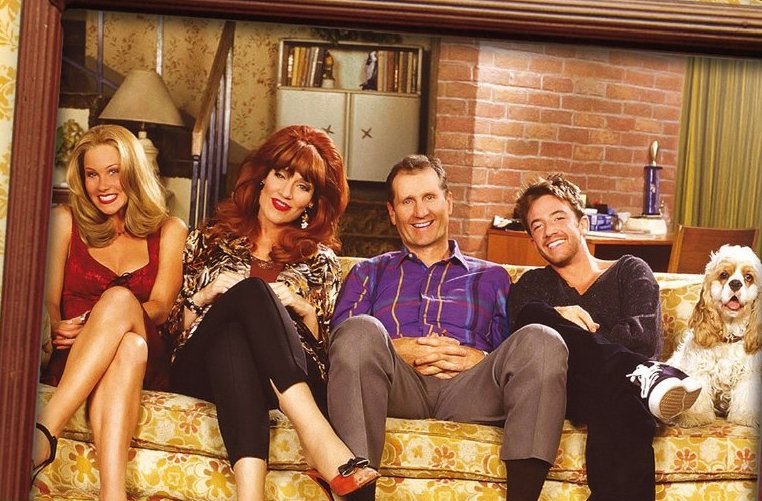 Rise to Prominence
It was in 1986 that she auditioned for the role of Peggy Bundy, a lower-class, sex-starved, lazy and free-spending wife of shoe salesman Al Bundy in "Married with Children". Appeared in a red-wig at the audition, she stunned the casting directors and immediately won the role. Her red-wig became a part of Peggy's character.
Katey appeared in all 263 episodes of the highly-acclaimed show from 1986 to '97, which made her extremely popular with the public. Many detested her character, but to many others she was an inspiration. Regardless, Katey received several honors for her work in the long-running series, including four Golden Globe award nominations and a TV Land Innovator Award, alongside her co-stars Christina Applegate, David Faustino, Ted McGinley and Ed O'Neill. The role celebrated her as an actress and enabled her gain new notable roles. Concurrently Katey featured in several films, including "She Says She's Innocent" in 1991, and "Trail of Tears" in 1995, both being the lead roles.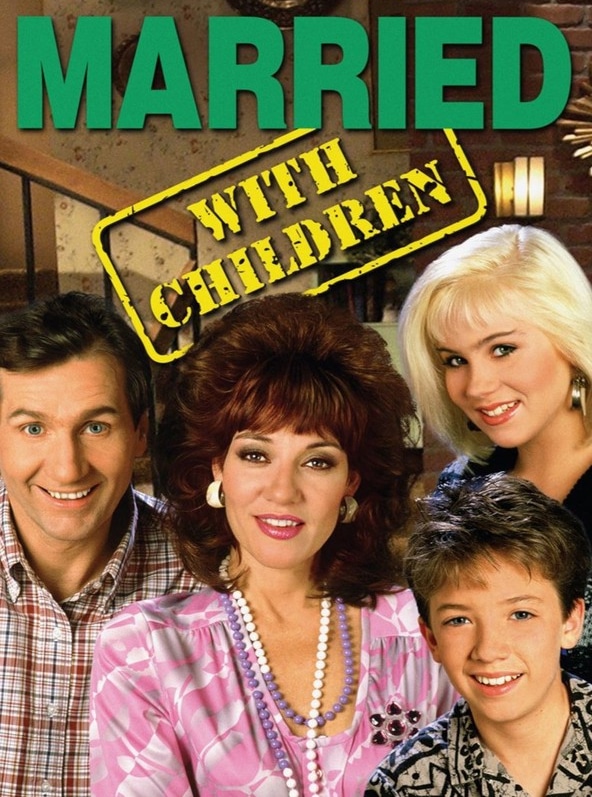 Career After "Married with Children"
Following the end of the series, Katey continued her career with lead and supporting roles in television films, such as "God's New Plan" in 1999, next to Annabeth Gish and Tom Irwin, then "Smart House" in the same year, while in 2000 she was Wendy in the comedy film "Dropping Out". Two years later, Katey was cast in her next significant role, as Cate Hennessy in another sitcom, "8 Simple Rules… for Dating My Teenage Daughter", which aired between 2002 and 2005.
"Sons of Anarchy" Period
Nothing much changed for Katey in the next few years, bouncing from role to role, until she got the part of Gemma Teller Morrow in the TV crime-drama series "Sons of Anarchy" (2008-2014). One of the main protagonists, her character Gemma is the wife of Clay Morrow and widow of John Teller, a founder of the Sons of Anarchy Motorcycle Club; the character was a resurgence of her somewhat stalled career, as Katey featured in all 92 episodes of the series, and was rewarded for her work with a Golden Globe Award in the category for Best Performance by an Actress in a Television Series – Drama in 2011, but her success meant that  other acting projects came her way too, including the role of Sandy in the TV series "Chadam" in 2010, and a minor appearance in the highly-acclaimed series "Glee" in 2013.
Thank you to everyone who joined me on the @SuperiorDonuts live tweet last night! #superiordonuts pic.twitter.com/Civ3EThWVb

— Katey Sagal (@KateySagal) April 11, 2018
A career in Recent Years
Since the end of "Sons of Anarchy", Katey has made several notable appearances, including the role of Louise in the sports drama film "Bleed For This" in 2016, with Aaron Eckhart and Miles Teller in the lead roles, and most recently as Randy DeLuca in the TV comedy series "Superior Donuts".
An Accomplished Voice Actress
Katey, recognized for her high-pitched voice while portraying Peggy Bundy, secured a prominent voice acting career; her most notable character was Turanga Leela in the animated series "Futurama", created by Matt Groening and David X. Cohen, which aired from 1999 until 2013, and thanks to its popularity, Groening created several films in which Katey repeated her voice role.
Successful Musician
Katey is also an acclaimed musician; she has released five studio albums, with her debut release coming out in 1974, entitled "Moon Over Brooklyn". Her most popular album is "Well…" released in 1994, which features the song "(You) Can't Hurry the Harvest", written following a sudden cesarean section when she was in the seventh month of pregnancy.
Do You Know How Rich Katey Sagal Is?
Katey, a multitalented artist, has proved her acting and singing skills, for which she has won numerous prestigious awards. So far she has featured in more than 80 film and TV titles, some of which became extremely successful, both critically and commercially, but all still increased her wealth. So, have you ever wondered how rich Katey Sagal is, as of mid- 2018? According to authoritative sources, it has been estimated that Sagal's net worth is as high as $30 million. Pretty impressive, don't you think?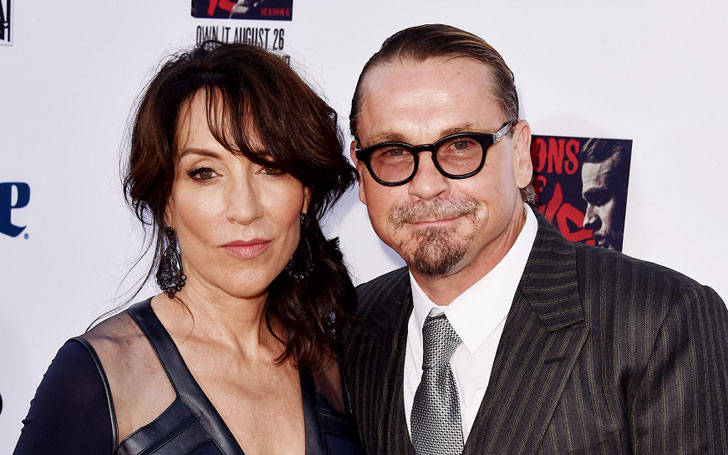 Do You Know About Katey Sagal's Personal Life, Marriage, Affairs, Children?
When it comes to her personal life, Katey has been quite open about it; she is now married to her third husband, Kurt Sutter, a famous screenwriter, director and producer, best known to the world for creating the "Sons of Anarchy". The two have been married since 2004 and have welcomed one child, a daughter, Esmé Louise through a surrogate mother. Her first husband was musician Freddie Beckmeier from 1978 until 1981, and Katey then married drummer Jack White in 1993 with whom she welcomed a son Jackson, and daughter Sarah White before they divorced in 2000.
Internet Popularity
Katey has managed to expand her popularity to the social media platforms Instagram and Facebook. Her official Instagram account has over 410,000 followers, with whom she has shared events from her personal life and career as well. She is also pretty active on Facebook, with over 1.2 million followers. So, if you aren't already a fan of this prominent actress and singer, then this is a fantastic opportunity for you to become one, just skip over to her official page.
General Info
| | |
| --- | --- |
| Full Name | Katey Sagal |
| Net Worth | $30 million |
| Date Of Birth | January 19, 1954 |
| Height | 1.75 m |
| Weight | 145 lbs |
| Profession | Singer-songwriter, Voice Actor |
| Education | California Institute of the Arts |
| Nationality | American |
Family
| | |
| --- | --- |
| Spouse | Kurt Sutter, Jack White, Fred Lombardo, Freddie Beckmeier |
| Children | Sarah Grace White, Esme Louise Sutter, Jackson James White, Ruby Jean White |
| Parents | Sara Zwilling, Boris Sagal |
| Siblings | Liz Sagal, Jean Sagal, Joe Sagal, Gregg Champion, David Sagal |
Accomplishments
| | |
| --- | --- |
| Awards | Golden Globe Award for Best Performance by an Actress In A Television Series – Drama, TV Land Innovator Award |
| Nominations | Critics' Choice Television Award for Best Actress in a Drama Series, People's Choice Award for Favorite TV Icon, Satellite Award for Best Actress – Television Series Drama, Golden Globe Award for Best Performance by an Actress in a Television Series – Musical or Comedy, TCA Award for Individual Ac… |
| Movies | Pitch Perfect 2, Bleed for This, Smart House, I'm Reed Fish, No Higher Love, House Broken, Three Wise Guys, The Good Mother, Futurama: The Beast with a Billion Backs, There's Always Woodstock, Futurama: Bender's Big Score, When Angels Come to Town, Futurama: Into the Wild Green Yonder, Jack and the … |
| TV Shows | Sons of Anarchy, Married… with Children, Futurama, The Bastard Executioner, 8 Simple Rules, Tucker, The Search for the Funniest Mom in America, A to Z, Mary, Imagine That, Futurama: The Beast with a Billion Backs |
Social profile links
Quotes
| # | Quote |
| --- | --- |
| 1 | [on the sitcom Mary (1985)] That was awesome. I was the last one to know that that show was not doing well. I thought it was fantastic. It was my first job on television, really, and I was with Mary Tyler Moore. And Danny DeVito was the director; he cast me. And I literally had never been on a sitcom, or even near a sitcom. I had not a clue as to what I was doing. And Mary was very loving and supportive; I just followed her lead, because she's, you know, the queen. So for my first experience on a sitcom, it was awesome. |
| 2 | [on 8 Simple Rules (2002)] After John Ritter died, we collectively wanted to go on. It was a rock-and-a-hard-place position, where it felt really wrong to just leave and end it, but it also felt uncomfortable to continue. There was just no really obvious right thing to do. And the people who make the decisions made that decision to move forward. I thought it was the most honest thing to do, and a way of honoring John as well. I was happy that they decided to let the story unfold as the family loses the father. I did feel like they tried to get back to the funny a little quick. I understand that's the major thing on sitcoms–you want to get people laughing, but I thought that organically, it could have taken a little more time in telling that real story of the family getting through it. I think we did the best we could. It was just heartbreaking. |
| 3 | I'd been looking for a more dramatic role. I've done comedy most of my career, which I love, but I wanted to expand. And Sons of Anarchy (2008) came along, and is sort of a dream job, really, a dream character to play. It's so different from other roles I've played, and it's been challenging, which is just what I wanted. |
| 4 | [on being an older mother] My thing about having another child was, time's-a-wasting! I thought about being an older parent and what that means for another child, but I was somewhat of an older parent when I had Sarah and Jackson in my late 30s. I have an enormous family with many cousins, and Esmé has an older brother and sister. So, I felt it was okay to do this. |
| 5 | It isn't often that an actress gets to spend so much time on ONE job. In the acting business, you usually go from one thing to another. |
| 6 | It was never about sort of being famous. I just wanted to be good at what I did. |
Facts
| # | Fact |
| --- | --- |
| 1 | She was awarded the 1985 Drama Logue Award for Outstanding Performance for "The Beautiful Lady" at the Mark Taper Forum Theatre in Los Angeles, California. |
| 2 | She was awarded a Star on the Hollywood Walk of Fame at 7021 Hollywood Boulevard in Hollywood, California on September 9, 2014. |
| 3 | Became a mother for the third time at age 52, her daughter Esme Louise Sutter was born via surrogate on January 10, 2007. Child's father is her third husband, Kurt Sutter. |
| 4 | Gave birth to her second child, at age 42, a son named Jackson James White, on March 1, 1996. Child's father is her second husband, Jack White. |
| 5 | Gave birth to her first child, at age 40, a daughter named Sarah Grace White, on August 7, 1994. Child's father is her second husband, Jack White. |
| 6 | At age 37, gave birth to a stillborn daughter named Ruby Jean White in October 1991. Child's father was her second husband, Jack White. |
| 7 | In December 1989, after two months of pregnancy with her first child, she suffered a miscarriage. |
| 8 | Currently lives in Bel Air, Los Angeles, California (2011). |
| 9 | Ex-sister-in-law of Jules White, Sam White and Hanala Sagal. Stepsister of Gregg Champion. |
| 10 | Her first marriage, to bass player Freddie Beckmeyer, ended in divorce after three years. A second to Jack White, who was involved in the "Mighty Ducks" hockey film series as both actor and adviser, also ended in divorce. She has two children from her second marriage, Sarah and Jackson. |
| 11 | Parodied her role of Peg Bundy via a similarly attired character in the Futurama (1999) episode, Futurama: A Bicyclops Built for Two (2000). |
| 12 | At the auditions of Married with Children (1987), it was her own idea of dressing up Peggy by wearing clothes from the 1960s. |
| 13 | Her older brother David Sagal is a lawyer and studio executive at Warner Brothers. |
| 14 | Her younger brother Joey Sagal appeared in a couple of Married with Children (1987) episodes. |
| 15 | Her godfather is producer Norman Lear. |
| 16 | One of her "Peg Bundy" bras is located in the Frederick's of Hollywood Lingerie Museum in Hollywood. It was stolen during the 1993 riots, but was returned by the thieves after they discovered its value. |
| 17 | Was hired to sing back-up for Bob Dylan during his 1978 tour but was fired (along with half the band) a week before it started up. |
| 18 | Her father, Boris Sagal, later married renowned dancer/choreographer Marge Champion after her mother's death. |
| 19 | Released a second CD in June 2004 called "Room", a collection of pop originals and classics. |
| 20 | In a far cry from the red-wigged, stiletto-heeled Peg Bundy on Married with Children (1987), she played responsible sitcom mother Cate Hennessey on 8 Simple Rules (2002). |
| 21 | Her younger sisters, Liz Sagal and Jean Sagal, are identical twins. |
| 22 | Her father, Boris Sagal, was a director, and her mother, Sara Macon, was a singer. |
| 23 | Stepgranddaughter of Ernest Belcher. |
| 24 | Her father was a Russian Jewish immigrant. Her mother had English, German and Scottish ancestry. |
| 25 | She has been a back-up singer for Bob Dylan, Bette Midler, Gene Simmons and Tanya Tucker. |
| 26 | She appeared in the music video and sang in the choir on the song "Voices That Care". |
| 27 | Daughter of Boris Sagal and Sara Macon. |
| 28 | Older sister of Liz Sagal, David Sagal, Jean Sagal and Joey Sagal. |
| 29 | Wore a red wig for her role as Peg Bundy on Married with Children (1987). |
Pictures
Movies
Actress
Title
Year
Status
Character
Superior Donuts
2017
TV Series completed
Randy
Furst Born
2016
TV Movie completed
Julie
Dirty Dancing
TV Movie post-production
Vivian Pressman
This Is Us
2016
TV Series
Lanie Schultz
The Big Bang Theory
2016
TV Series
Susan
Bleed for This
2016
Louise Pazienza
Brooklyn Nine-Nine
2016
TV Series
Karen Peralta
The Bastard Executioner
2015
TV Series
Annora of the Alders
Pitch Perfect 2
2015
Katherine
A to Z
2014-2015
TV Series
Narrator
Regular Show in Space
2014-2015
TV Series
Mordecai's Mom / Aunt Maxine
Sons of Anarchy
2008-2014
TV Series
Gemma Teller Morrow
The Simpsons
2014
TV Series
Turanga Leela
Sons of Anarchy: Character Good Byes
2014
Video short
Gemma Teller Morrow
Sons of Anarchy: Sons for Sandy
2014
Video short
Gemma Teller Morrow
Always Woodstock
2014
Lee Ann
Futurama
1999-2013
TV Series
Turanga Leela
Princess Purpleberry
Nutcracker
…
Glee
2013
TV Series
Nancy Abrams
Grandsons of Anarchy
2012
Short
Katey
Sons of Anarchy: Happy Ending Roundtable
2010
Video short
Gemma Teller Morrow
Sons of Anarchy: The Moral Code of Sons of Anarchy
2010
Video short
Gemma Teller Morrow
Chadam
2010
TV Series
Sandy
Lost
2005-2010
TV Series
Helen Norwood
House Broken
2009
Mary Cathkart
Jack and the Beanstalk
2009
Jack's Mother
Futurama: Into the Wild Green Yonder
2009
Video
Turanga Leela (voice)
Star-ving
2009
TV Series
Katey Sagal
Futurama: Bender's Game
2008
Video
Turanga Leela
Leegola (voice)
Eli Stone
2008
TV Series
Marci Klein
Futurama: The Beast with a Billion Backs
2008
Video
Turanga Leela (voice)
CSI: Crime Scene Investigation
2008
TV Series
Annabelle Fundt
Natasha Steele
Futurama: Bender's Big Score
2007
Video
Turanga Leela (voice)
The Shield
2005-2007
TV Series
Nancy Gilroy
The Winner
2007
TV Series
Lydia Berko
Boston Legal
2006
TV Series
Barbara Little
I'm Reed Fish
2006
Maureen
Higglytown Heroes
2004-2006
TV Series
Policewoman Hero
Policewomen Hero
Monica the Police Officer
Ghost Whisperer
2005
TV Series
Francie Lewis
Three Wise Guys
2005
TV Movie
Shirley Crown
Campus Confidential
2005
TV Movie
Naomi
8 Simple Rules
2002-2005
TV Series
Cate Hennessy
Bridget Hennessy
When Angels Come to Town
2004
TV Movie
Jo
Lords of EverQuest
2003
Video Game
Lady Sakti (voice)
Futurama
2003
Video Game
Turanga Leela (voice)
Following Tildy
2002
Short
Connie St. John
Imagine That
2002
TV Series
Barb Thompson
The Geena Davis Show
2001
TV Series
Ashley
Tucker
2000-2001
TV Series
Claire Wennick
Recess: School's Out
2001
Mrs. Flo Spinelli (voice, uncredited)
Happily Ever After: Fairy Tales for Every Child
2000
TV Series
Hare
Recess
1997-2000
TV Series
Flo Spinelli / Additional Voices
Dropping Out
2000
Wendy
Smart House
1999
TV Movie
Pat
That '70s Show
1999
TV Series
Edna Hyde
God's New Plan
1999
TV Movie
Ellen Young
Chance of a Lifetime
1998
TV Movie
Irene Dunbar
Mr. Headmistress
1998
TV Movie
Harriet Magnum
Married with Children
1987-1997
TV Series
Peggy Bundy / The Grim Reaper / Princess Scarlett
Space Cases
1996
TV Series
Ma
Trail of Tears
1995
TV Movie
Annie Cook
Duckman: Private Dick/Family Man
1995
TV Series
Duckman's Mother
She Says She's Innocent
1991
TV Movie
Susan Essex
Tales from the Crypt
1990
TV Series
Ms. Kilbasser
Mother Goose Rock 'n' Rhyme
1990
TV Movie
Mary Quite Contrary
The Good Mother
1988
Ursula
Maid to Order
1987
Louise
Mary
1985-1986
TV Series
Jo Tucker
Three for the Road
1975
TV Series
Receptionist
The Dream Makers
1975
TV Movie
Unemployment Manager
Larry
1974
TV Movie
Cashier
Columbo
1973
TV Series
Secretary
The Bold Ones: The New Doctors
1972
TV Series
Young Nurse
The Failing of Raymond
1971
TV Movie
Girl Patient (as Catherine Louise Sagal)
Soundtrack
| Title | Year | Status | Character |
| --- | --- | --- | --- |
| Always Woodstock | 2014 | performer: "Runner Man", "Follow The River" | |
| Sons of Anarchy | 2008-2013 | TV Series performer – 4 episodes | |
| Futurama: Bender's Big Score | 2007 | Video performer: "I May as Well Jump", "Going to War" | |
| Futurama | 1999-2003 | TV Series performer – 9 episodes | |
| Married with Children | 1989-1996 | TV Series performer – 2 episodes | |
| Loose Cannons | 1990 | performer: "Loose Cannons" | |
| Plain Clothes | 1987 | performer: "AIN'T GOT NOBODY" | |
| Olivia: Soul Kiss | 1986 | Video short performer: "Soul Kiss" – as Katie Sagal | |
| Silent Rage | 1982 | performer: "It's the Time for Love" – as Katie Sagal | |
| The $5.20 an Hour Dream | 1980 | TV Movie performer: "One More Day on the Line" | |
Self
| Title | Year | Status | Character |
| --- | --- | --- | --- |
| IMDb: What to Watch | 2014 | TV Series documentary | Herself |
| The Writers' Room | 2014 | TV Series | Herself / Gemma Teller Morrow |
| The Insider | 2014 | TV Series | Herself |
| 17th Annual PRISM Showcase | 2013 | TV Movie | Herself |
| The Talk | 2013 | TV Series | Herself – Guest |
| Rachael Ray | 2012 | TV Series | Herself – Guest |
| Last Call with Carson Daly | 2012 | TV Series | Herself – Guest |
| Conan | 2012 | TV Series | Herself – Guest |
| Comedy Central Roast of Roseanne | 2012 | TV Movie | Herself |
| FOX 25th Anniversary Special | 2012 | TV Movie | Herself |
| The Soup | 2011 | TV Series | Herself |
| Defining Beauty: Ms. Wheelchair America | 2011 | Documentary | Narrator |
| The 68th Annual Golden Globe Awards | 2011 | TV Special | Herself – Winner: Best Actress in a Television Series – Drama |
| Biography | 2002-2010 | TV Series documentary | Herself |
| 2009 Creative Arts Emmy Awards | 2009 | TV Special | Herself |
| Lopez Tonight | 2009 | TV Series | Herself – Guest |
| Late Night with Jimmy Fallon | 2009 | TV Series | Herself – Guest |
| The View | 2009 | TV Series | Herself – Guest |
| Chelsea Lately | 2009 | TV Series | Herself – Guest |
| The 2009 Primetime Creative Arts Emmy Awards | 2009 | TV Special | Herself |
| Sons of Anarchy Season 1: Casting 'Sons of Anarchy' | 2009 | Video short | Herself – Gemma Teller Morrow |
| Sons of Anarchy Season 1: The Bikes | 2009 | Video short | Herself – Gemma Teller Morrow |
| Sons of Anarchy Season 1: The Ink | 2009 | Video short | Herself – Gemma Teller Morrow |
| The 7th Annual TV Land Awards | 2009 | TV Special | Herself |
| The Bonnie Hunt Show | 2008 | TV Series | Herself – Guest |
| Casting Session | 2008 | TV Series documentary | Herself / Gemma Teller Morrow |
| 'Futurama' Returns | 2007 | Video documentary short | Turanga Leela / Female Executive (voice, uncredited) |
| 10th Annual Prism Awards | 2006 | TV Special | Herself |
| Nick at Nite's Search for the Funniest Mom in America 2 | 2006 | TV Movie | Herself – Host |
| 9th Annual Prism Awards | 2005 | TV Special | Herself |
| E! True Hollywood Story | 2001-2005 | TV Series documentary | Herself |
| 11th Annual Screen Actors Guild Awards | 2005 | TV Special | Herself |
| The Funniest Families of Television Comedy: A Museum of Television & Radio Special | 2004 | TV Movie | Herself |
| Larry King Live | 2004 | TV Series | Herself – Guest |
| The 29th Annual People's Choice Awards | 2003 | TV Special | Herself |
| A Merry Mickey Celebration | 2003 | TV Special | Herself |
| Extra | 2003 | TV Series | Herself |
| A Life of Laughter: Remembering John Ritter | 2003 | TV Movie documentary | Herself |
| Good Morning America | 1989-2003 | TV Series | Herself – Guest |
| Good Day Live | 2003 | TV Series | Herself – Guest |
| Married… with Children Reunion | 2003 | TV Movie documentary | Herself |
| The Late Late Show with Craig Kilborn | 2003 | TV Series | Herself – Guest |
| Funniest Wedding Outtakes | 2002 | TV Movie | Herself – Host |
| Intimate Portrait | 2001 | TV Series documentary | Herself |
| Pajama Party | 2000 | TV Series | Herself |
| The 26th Annual People's Choice Awards | 2000 | TV Special | Herself |
| 'Futurama': Welcome to the World of Tomorrow | 1999 | TV Short documentary | Herself |
| 3rd Annual Screen Actors Guild Awards | 1997 | TV Special | Herself |
| The Rosie O'Donnell Show | 1996 | TV Series | Herself – Guest |
| Married with Children | 1995 | TV Series | Herself / Peggy Bundy |
| Nachtshow | 1995 | TV Series | Herself |
| Late Night with Conan O'Brien | 1994 | TV Series | Herself – Guest |
| The Tonight Show with Jay Leno | 1993-1994 | TV Series | Herself – Guest |
| The 21st Annual American Music Awards | 1994 | TV Special | Herself |
| The 51st Annual Golden Globe Awards | 1994 | TV Special | Herself – Nominee: Best Actress in a TV-Series – Comedy / Musical |
| The 1993 Billboard Music Awards | 1993 | TV Special | Herself (uncredited) |
| 1993 Environmental Media Awards | 1993 | TV Special | Herself |
| The 50th Annual Golden Globe Awards | 1993 | TV Special | Herself – Nominee: Best Actress in a TV-Series – Comedy / Musical |
| Backstage with the Bundys | 1992 | TV Special documentary | Herself |
| Free to Laugh: A Comedy and Music Special for Amnesty International | 1992 | TV Special | Herself |
| One on One with John Tesh | 1991-1992 | TV Series | Herself – Guest |
| The 49th Annual Golden Globe Awards | 1992 | TV Special | Herself – Nominee: Best Actress in a TV-Series – Comedy / Musical |
| An American Saturday Night | 1991 | TV Movie | Herself |
| Voices that Care | 1991 | TV Movie documentary | Herself – Choir Member |
| The 48th Annual Golden Globe Awards | 1991 | TV Special | Herself – Nominee: Best Actress in a TV-Series – Comedy / Musical |
| The Arsenio Hall Show | 1989-1990 | TV Series | Herself – Guest |
| The 42nd Annual Primetime Emmy Awards | 1990 | TV Special | Herself – Presenter: Outstanding Writing in a Variety or Music Program |
| The Earth Day Special | 1990 | TV Special | Peggy Bundy |
| The 41st Annual Primetime Emmy Awards | 1989 | TV Special | Herself – Co-Presenter: Outstanding Directing in Miniseries or Special & Outstanding Writing in Miniseries or Special |
| The Joan Rivers Show | 1989 | TV Series | Herself – Guest |
| The 3rd Annual American Comedy Awards | 1989 | TV Special | Herself |
| The Pat Sajak Show | 1989 | TV Series | Herself – Guest |
| The New Hollywood Squares | 1987 | TV Series | Herself – Guest |
| Entertainment Tonight | 2003-2016 | TV Series | Herself |
| Carpe Diem: The Final Season of Sons of Anarchy | 2015 | Video documentary | Gemma Teller |
| Intercoarse with Kurt Sutter | 2014 | TV Series | Herself |
| CBS News Sunday Morning | 2014 | TV Series documentary | Herself – Guest |
| The Queen Latifah Show | 2013-2014 | TV Series | Herself – Guest |
| The Late Late Show with Craig Ferguson | 2005-2014 | TV Series | Herself – Guest |
Awards
Won Awards
| Year | Award | Ceremony | Nomination | Movie |
| --- | --- | --- | --- | --- |
| 2014 | BTVA Television Voice Acting Award | Behind the Voice Actors Awards | Best Vocal Ensemble in a Television Series – Comedy/Musical | Futurama (1999) |
| 2014 | Star on the Walk of Fame | Walk of Fame | Television | On September 9, 2014. At 7021 Hollywood Blvd. |
| 2013 | BTVA People's Choice Voice Acting Award | Behind the Voice Actors Awards | Best Vocal Ensemble in a Television Series – Comedy/Musical | Futurama (1999) |
| 2013 | BTVA Television Voice Acting Award | Behind the Voice Actors Awards | Best Vocal Ensemble in a Television Series – Comedy/Musical | Futurama (1999) |
| 2013 | Prism Award | Prism Awards | Female Performance in a Drama Series Multi-Episode Storyline | Sons of Anarchy (2008) |
| 2012 | BTVA People's Choice Voice Acting Award | Behind the Voice Actors Awards | Best Vocal Cast in a Television Series | Futurama (1999) |
| 2012 | BTVA Television Voice Acting Award | Behind the Voice Actors Awards | Best Vocal Cast in a Television Series | Futurama (1999) |
| 2011 | Golden Globe | Golden Globes, USA | Best Performance by an Actress in a Television Series – Drama | Sons of Anarchy (2008) |
| 2011 | OFTA Television Award | Online Film & Television Association | Best Actress in a Drama Series | Sons of Anarchy (2008) |
| 2009 | Innovator Award | TV Land Awards | | Married with Children (1987) |
| 2005 | Prism Award | Prism Awards | Performance in a Comedy Series | 8 Simple Rules… for Dating My Teenage Daughter (2002) |
Nominated Awards
| Year | Award | Ceremony | Nomination | Movie |
| --- | --- | --- | --- | --- |
| 2015 | People's Choice Award | People's Choice Awards, USA | Favorite TV Icon | |
| 2014 | BTVA Television Voice Acting Award | Behind the Voice Actors Awards | Best Female Lead Vocal Performance in a Television Series – Comedy/Musical | Futurama (1999) |
| 2014 | OFTA Television Award | Online Film & Television Association | Best Voice-Over Performance | Futurama (1999) |
| 2014 | TV Guide Award | TV Guide Awards | Favorite Villain | Sons of Anarchy (2008) |
| 2014 | WIN Award | Women's Image Network Awards | Actress Drama Series | Sons of Anarchy (2008) |
| 2013 | BTVA Television Voice Acting Award | Behind the Voice Actors Awards | Best Female Lead Vocal Performance in a Television Series – Comedy/Musical | Futurama (1999) |
| 2013 | WIN Award | Women's Image Network Awards | Outstanding Actress Drama Series | Sons of Anarchy (2008) |
| 2012 | Critics' Choice TV Award | Critics Choice Television Awards | Best Actress in a Drama Series | Sons of Anarchy (2008) |
| 2012 | OFTA Television Award | Online Film & Television Association | Best Actress in a Drama Series | Sons of Anarchy (2008) |
| 2011 | Critics' Choice TV Award | Critics Choice Television Awards | Best Actress in a Drama Series | Sons of Anarchy (2008) |
| 2011 | Gold Derby TV Award | Gold Derby Awards | Drama Lead Actress | Sons of Anarchy (2008) |
| 2011 | Satellite Award | Satellite Awards | Best Actress in a Series, Drama | Sons of Anarchy (2008) |
| 2010 | Gold Derby TV Award | Gold Derby Awards | Drama Lead Actress | Sons of Anarchy (2008) |
| 2010 | Satellite Award | Satellite Awards | Best Actress in a Series, Drama | Sons of Anarchy (2008) |
| 2010 | TCA Award | Television Critics Association Awards | Individual Achievement in Drama | Sons of Anarchy (2008) |
| 2002 | OFTA Television Award | Online Film & Television Association | Best Voice-Over Performance | Futurama (1999) |
| 1994 | Golden Globe | Golden Globes, USA | Best Performance by an Actress in a Television Series – Comedy or Musical | Married with Children (1987) |
| 1993 | Golden Globe | Golden Globes, USA | Best Performance by an Actress in a Television Series – Comedy or Musical | Married with Children (1987) |
| 1992 | Golden Globe | Golden Globes, USA | Best Performance by an Actress in a Television Series – Comedy or Musical | Married with Children (1987) |
| 1991 | Golden Globe | Golden Globes, USA | Best Performance by an Actress in a Television Series – Comedy or Musical | Married with Children (1987) |
Source: IMDb, Wikipedia