• Amanda Fuller is an actress and model born on the 27th of August 1984 in Sacramento, California.
• She started amassing an audience at the age of 3 when she posed for print ads of her parent's furniture store.
• She landed her first role at the age of 11 in the movie "Deadly Whispers".
• Her most important role is as Kristin Baxter in the show "Last Man Standing".
• Her net worth is estimated to be $5 million.

Known for movies

Who is Amanda Fuller from "Last Man Standing"?
Born on the 27th of August 1984, in Sacramento, California USA, Amanda Fuller is an actress and model of white ethnicity, and mixed English, French, German and Mexican descent. Nicknamed 'Manda Panda' by her fans, she is perhaps best known to the world as Kristin Baxter from the show entitled "Last Man Standing", produced by the ABC television company. Other than that, she has had numerous less popular roles in various films and TV shows, but all of which have contributed to her fame. She has been active in the lucrative acting business since 1993.
Early Life and Education
Born the only sister of three male siblings and daughter to a retired police chief, Amanda started amassing an audience at the extremely early age of three. Specifically, she posed for various print ads of the furniture store that her parents had ownership of, entitled "My Kid's Room". Still in her early youth, she began taking acting and dancing lessons at Ron Cisnero's Studio of Dance in her hometown. Regarding her early education, she attended Notre Dame High School in Sherman Oaks, California, from where she matriculated in 2002. She didn't attend university, as her acting career had already begun.
Career
As early as 1995 at the age of 11, she got her first role as Crystal Acton, in the movie entitled "Deadly Whispers". The year after, she went on to star as Brittany in the movie entitled "The Making of a Hollywood Madam", and her name started to gain momentum after she landed the role of Debbie in "'Til There Was You", as the young version of Jennifer Aniston's character, as well as a minor role in "Don King: Only in America", in 1997. Interestingly, a year before that, she actually even voiced the character of Gabrielle in the video game entitled "Frankenstein: Through the Eyes of the Monster". Throughout her career years that preceded her most important role thus far, she had screen time in various TV shows, including "Buffy the Vampire Slayer", "NCIS "Bones", "Women's Murder Club", "Grey's Anatomy" among many more. As for her unmentioned film appearances, there were just as many, including "Americanese", "Mr. Sadman", "Freerunner", "Kush" and "Askari", to name a few. Finally, in 2012, she landed the lead role of Kristin Baxter in the ongoing series entitled "Last Man Standing".
The Brother
Even though Amanda herself is undoubtedly the best known and most popular member of her family, one of her brothers, Jeff Fuller, is also involved in the world of film. He has been credited with over 49 titles as the Second Unit Director or Assistant Director on the Internet Movie Database. Some of the titles he has worked on include "Shooter", "Donnie Darko", "Zathura: A Space Adventure" and "Righteous Kill".
Love Life
Although not yet married, Amanda is currently in a relationship with her boyfriend Matthew Bryan Feld, a Hollywood actor as well. Even though he has landed only one role thus far – Miles, in the 2016 movie entitled "Fashionista" – he is known to the world as an actor, musician, writer and a vocalist. Together, they make for a potential celebrity couple, but it's unknown whether the couple plans to tie the knot.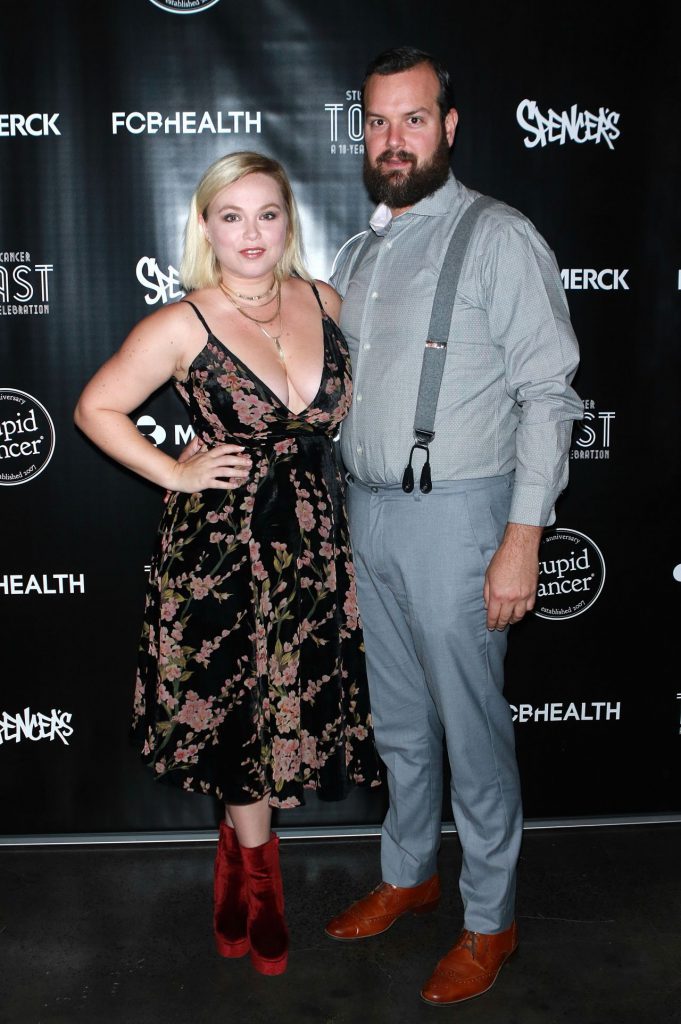 What is Amanda Fuller's Net Worth?
Have you ever wondered how rich Amanda Fuller is, as of early 2018? According to authoritative sources, it has been estimated that the current total of Amanda's accumulated wealth is somewhere around $5 million, influenced largely by Amanda's long-time dedication to the acting profession, in both movies and TV shows, especially "Last Man Standing". Considering that the show in which she has the lead role is still ongoing, it can be said that her net worth is likely to continue to grow.
?? C A N A D A ?? *i miss you already* ♥️♥️♥️♥️♥️♥️♥️♥️♥️♥️
! ! !HAPPY150thBIRTHDAY! ! !
♥️♥️♥️♥️♥️♥️♥️♥️♥️♥️ https://t.co/qprPG7JBTC pic.twitter.com/dYpmVVi1x5

— Amanda Fuller (@amandafuller27) July 1, 2017
Body Measurements
Concerning the vital statistics of the attractive actress, various reputable sources suggest that they are 36-25-37, her height is 5 feet and 5 inches (1.65m), while her weight currently stands at 130 lbs (59kg). Her shoe size is 7 (US) and her dress size is 6 (US), while her bra size is a 34 B-cup. She is a blue-eyed brunette with a build described as average.
Posted by Amanda Fuller on Wednesday, March 28, 2012
Social Media Presence
As is the case with numerous actors nowadays, Amanda is likely to have a stable and close relationship with her fans, which in turn increases the popularity of the titles she works on, and thus her own wealth. At the moment, her Facebook account has over 5,000 followers, while her Twitter account boasts more than 23,000 followers. Last but not least, her Instagram profile maintains a 14,000 plus at this time.
General Info
| | |
| --- | --- |
| Full Name | Amanda Fuller |
| Height | 1.65 m |
| Profession | Actor |
| Nationality | American |
Family
Accomplishments
| | |
| --- | --- |
| Movies | Red, White & Blue, Starry Eyes, The Brittany Murphy Story, Freerunner, Creature, Cheap Thrills, Deadly Whispers, The Incredible Genie, Anatomy of a Hate Crime, Beverly Hills Chihuahua 3: Viva la Fiesta!, Askari, Fashionista, Americanese, Primal Doubt, Safety Patrol, Mr. Sadman, The Barista, Convicti… |
| TV Shows | Last Man Standing, Tales of the City (UK) |
Social profile links
Facts
Pictures
Movies
Actress
| Title | Year | Status | Character |
| --- | --- | --- | --- |
| All the Creatures Were Stirring | | filming | Actor |
| Last Man Standing | 2012-2016 | TV Series | Kristin Baxter |
| Fashionista | 2016 | | April |
| Nanoblood | 2016 | Short | Lisa |
| The Brittany Murphy Story | 2014 | | Brittany Murphy |
| Starry Eyes | 2014 | | Tracy |
| The Barista | 2013 | Short | |
| Cheap Thrills | 2013/I | | Audrey |
| Beverly Hills Chihuahua 3: Viva La Fiesta! | 2012 | Video | Spa Employee |
| The Haun Solo Project: Addicted | 2012 | Video short | Sparkle |
| Scandal | 2012 | TV Series | Carly Weston |
| Grey's Anatomy | 2012 | TV Series | Dr. Morgan Peterson |
| Other People's Lives | 2011 | | Alexis |
| Rizzoli & Isles | 2011 | TV Series | Nancy Lanford |
| Freerunner | 2011 | | Dolores |
| Creature | 2011 | | Beth |
| Hopeless | 2010 | Short | Michelle |
| Law & Order: Special Victims Unit | 2010 | TV Series | Emma Brooks |
| Red White & Blue | 2010 | | Erica |
| Mr. Sadman | 2009 | | Anna |
| Engaged | 2009 | Short | Beatrice |
| Life | 2009 | TV Series | Ann Earley |
| Primal Doubt | 2007 | TV Movie | Claire Harper |
| Women's Murder Club | 2007 | TV Series | Beth Williams |
| Close to Home | 2007 | TV Series | Sally O'Neil |
| Kush | 2007 | | Sandra |
| Bones | 2006 | TV Series | Lori Mueller |
| CSI: Crime Scene Investigation | 2006 | TV Series | Cara Day |
| Americanese | 2006 | | Holly |
| Threshold | 2005-2006 | TV Series | Karyn Reynolds |
| Conviction | 2005 | TV Movie | |
| NCIS | 2004 | TV Series | Jen Shields |
| 7th Heaven | 2004 | TV Series | Leanne |
| Strong Medicine | 2004 | TV Series | Tally |
| Death, Can I Buy You a Drink? | 2004 | Short | Cricket King |
| Summerland | 2004 | TV Series | Tracy |
| Without a Trace | 2004 | TV Series | Jessica Raab / Rebecca / Angie Novell |
| Judging Amy | 2003 | TV Series | Shannon Ellner |
| Dragnet | 2003 | TV Series | Emily Ambrose |
| Boston Public | 2003 | TV Series | Marie Watson |
| The Failures | 2003 | | Sally |
| Buffy the Vampire Slayer | 2003 | TV Series | Eve |
| 8 Simple Rules | 2002 | TV Series | Lindsay |
| The Division | 2002 | TV Series | Summer Landers |
| Askari | 2001 | | Emma Crawshay |
| First Years | 2001 | TV Series | Cami |
| Touched by an Angel | 2001 | TV Series | Lucy Baker |
| Anatomy of a Hate Crime | 2001 | TV Movie | Kristen Price |
| Children of Fortune | 2000 | TV Movie | Erica Passenger |
| Malcolm in the Middle | 2000 | TV Series | April |
| One World | 1999 | TV Series | Meagan |
| The Incredible Genie | 1999 | | Emily |
| Two of a Kind | 1999 | TV Series | Courtney Collins |
| The Practice | 1999 | TV Series | Julie |
| Carson's Vertical Suburbia | 1998 | TV Movie | Racelle |
| Real Story | 1998 | TV Movie | Mallory |
| L.A. Doctors | 1998 | TV Series | Courtney Wilkes |
| Whatever It Takes | 1998/II | | April |
| Walker, Texas Ranger | 1998 | TV Series | Katie |
| Party of Five | 1998 | TV Series | Hollie |
| That '70s Show | 1998 | TV Series | Tina Pinciotti |
| Safety Patrol | 1998 | TV Movie | Amanda Fuller, Girl in Hallway |
| Don King: Only in America | 1997 | TV Movie | Teen Girl #2 |
| The Tom Show | 1997 | TV Series | Katie |
| 'Til There Was You | 1997 | | Debbie, Age 13 |
| Frankenstein: Through the Eyes of the Monster | 1996 | Video Game | Gabrielle |
| The Making of a Hollywood Madam | 1996 | TV Movie | Brittany |
| Charlie Grace | 1995 | TV Series | Jordan |
| Deadly Whispers | 1995 | TV Movie | Crystal Acton |
| Armistead Maupin's Tales of the City | 1993 | TV Mini-Series | Lexy |
Producer
| Title | Year | Status | Character |
| --- | --- | --- | --- |
| Eva & Liza | 2013 | Documentary associate producer | |
| The Haun Solo Project: Addicted | 2012 | Video short producer | |
Make Up Department
| Title | Year | Status | Character |
| --- | --- | --- | --- |
| The Haun Solo Project: Addicted | 2012 | Video short special makeup effects artist | |
Soundtrack
| Title | Year | Status | Character |
| --- | --- | --- | --- |
| Last Man Standing | 2014 | TV Series performer – 1 episode | |
Miscellaneous
| Title | Year | Status | Character |
| --- | --- | --- | --- |
| Old Dogs | 2009/II | production assistant | |
Self
| Title | Year | Status | Character |
| --- | --- | --- | --- |
| Entertainment Tonight | 2014 | TV Series | Herself – The Brittany Murphy Story |
| Inside Edition | 2014 | TV Series documentary | Herself – The Brittany Murphy Story |
| Vital Heat: The Making of 'Cheap Thrills' | 2014 | Video documentary short | Herself |
| Die Trying | 2010 | Documentary | Herself |
| Independent Lens | 2006 | TV Series documentary | Tisa |
Awards
3rd Place Awards
| Year | Award | Ceremony | Nomination | Movie |
| --- | --- | --- | --- | --- |
| 2012 | Chainsaw Award | Fangoria Chainsaw Awards | Best Actress | Red White & Blue (2010) |
Source: IMDb, Wikipedia