A key housing bill that would legalize duplexes and fourplexes in most neighborhoods in nearly every city in Washington has been approved by the state Senate.
House Bill 1110 passed 35 to 14 on Tuesday with about half a dozen Republicans joining Democrats in passing it, the Seattle Times reported. The bill would replace local zoning rules that have long reserved large areas in cities for single-family homes only.
Gov. Jay Inslee and other supporters say increasing housing supply is key to easing a statewide housing crisis that has seen house prices soar and the rise in homelessness.
NORTH CAROLINA LANDLORD SAYS HIS NEW HOME WAS LISTED ON AIRBNB BY AVOIDED TENANT
"We just don't have enough housing in this state," said Sen. Yasmin Trudeau, D-Tacoma. "This problem affects every city in every county in the state and it is a bigger problem than any city or county has been able to solve so far."
Opponents argue that planning and land use decisions should be made locally and that the bill would be a freebie to developers without doing enough to increase the supply of affordable housing.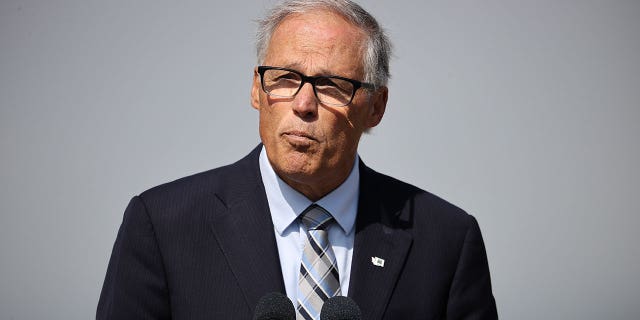 "I support local communities being able to figure out what their community is like without Washington State telling them they have to," said Sen. Phil Fortunato, R-Auburn.
The bill will return to the House for a vote on the Senate version, which, among other changes, is more lenient in the demands it imposes on small towns outside Seattle.
"It's hard to overstate what a step change this is for Washington State taking proactive steps on zoning reform to create more housing choices," wrote Dan Bertolet, Director of Housing. and urban planning for the Sightline Institute.
REAL ESTATE COMPANY: SQUATTERS MAKING LIFE MISERATE FOR OWNERS, PHILADELPHIA OFFICIALS DON'T SEEM TO CARE
It wouldn't prohibit the construction of single-family homes, but it would prevent cities from requiring neighborhoods to have only single-family homes.
Sen. John Braun, R-Centralia, touted the bill as protecting private property rights.
"When cities say you can only build one house on your half-acre lot," Braun said, "it limits your right to use your property as you wish."
The state Department of Commerce estimates that Washington needs to build 1 million more homes over the next two decades to keep pace with population growth.
CLICK HERE TO GET THE FOX NEWS APP
The requirements would not apply to environmentally critical areas or threatened watersheds around drinking water reservoirs.
Similar legislation has failed in recent years as cities have lobbied to maintain their grip on zoning regulations. But this year, supporters have been working hard with the Washington Association of Cities, which provided quiet support last week.
States have increasingly intervened as the population grows and housing stocks fail to keep pace. Oregon eliminated single-family zoning in 2019 and California largely did the same in 2021.