This week, transgender activists occupied state capitol buildings across the country to protest legislation imposing restrictions on gender transition procedures for children and teaching about gender identity in class.
The protests took place the same week that police identified a transgender individual as the shooter responsible for the killing of six people, including three 9-year-old children, in Monday's shooting at a private Christian school in Nashville.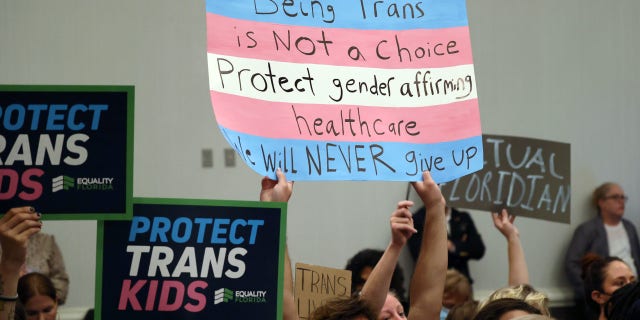 A crowd of LGBTQ activists marched on the Florida Capitol on Friday after the state's Republican-controlled House passed a bill that would restrict how teachers and students can use preferred pronouns in schools. The legislation also strengthens the ability of parents, students and other concerned persons to object to teaching materials and school library books.
DESANTIS RELEASES GRAPHIC VIDEO SHOWING TRANS SURGERY AFTER BIDEN CALLS GOVERNOR'S POLICIES 'CRUEL'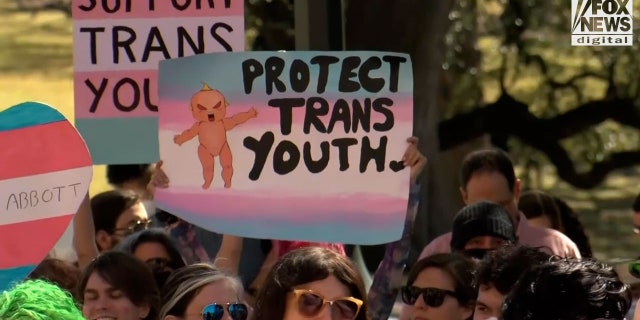 The measure was passed on International Transgender Visibility Day, when several transgender marches were held across the country. Students filled the Florida Capitol and shouted in protest, chanting "This is what democracy looks like" and calling for a takeover of schools.
Two days earlier in Kentucky, state police confirmed 19 people were arrested at the Capitol as large crowds gathered to protest Republican lawmakers overriding Democratic Gov. Andy Beshear's veto of legislation banning blockers puberty, hormones and gender transition surgeries for children under 18.
The bill also bans classes on gender identity and sexual orientation, requires trans students to use the bathroom of their biological sex, and prevents school districts from requiring teachers to use the pronouns of a student if they do not match their sex at birth.
At the same time Wednesday, hundreds of protesters descended on the Missouri Capitol after the Republican-led state Senate passed a law barring transgender youth under the age of 18 from receiving gender-affirming health care , such as puberty blockers and hormone treatments. The state Senate also passed a bill preventing transgender students from competing on sports teams that match their gender identity.
"We are showing ourselves clearly today in love and in community, yes, but we are also showing ourselves in righteous anger and rage," said Katy Erker-Lynch, executive director of PROMO, a political organization public and defending LGBTQ rights, during the demonstration.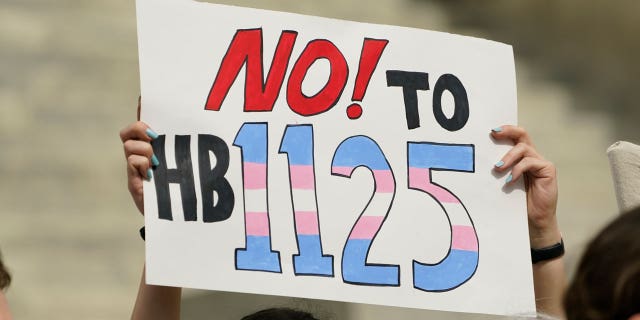 PLANNED PARENTHOOD SUES MISSOURI AG FOR INVESTIGATION INTO TRANS PROCEEDINGS
Two days earlier in Texas, mobs of trans activists stormed the Capitol as the State House debated a similar bill banning gender transition procedures for children. Protesters chanted "protect trans children" and lay on the ground in an apparent effort to obstruct those trying to pass.
The protest in Texas took place the same day as the Nashville shooting at The Covenant School. Police say the shooter was Audrey Hale, a 28-year-old transgender who was a former student at the private Christian school. Hale, who was killed after shooting responding officers, left a manifesto, authorities said, which did not rule out gender identity may have been a motivation.
On Thursday, dozens of protesters swarmed the Tennessee Capitol, demanding lawmakers take action on gun violence as they appeared to mourn Hale's death.
"Every death is a tragedy, y'all. Seven lives," a protester could be heard saying in footage posted to social media.
CLICK HERE TO GET THE FOX NEWS APP
Seven people were killed in the shooting, including Hale.