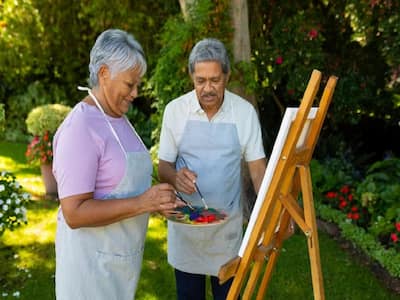 People who have hobbies have fewer depressive symptoms and higher levels of life satisfaction, according to a study.
Doing something that you like not only brings you joy but it also can keep you healthy. Singing, dancing, reading books, working out, cooking, gardening pursue a hobby. Having a hobby can benefit both mental and physical health.
Having a hobby may help protect older people from age-related decline in mental health and wellbeing. In a study led by UCL (University College London) researchers, older adults who have hobbies reported fewer depressive symptoms, higher levels of happiness, self-reported health and life satisfaction.
The benefits of hobbies were found consistent in different national settings, according to the study which looked at health data of older people (aged 65 or over) from across 16 countries including England, Japan, United States, and China.
Having a hobby was also associated with subsequent decreases in depressive symptoms and increases in happiness and life satisfaction, according to the study published in the journal Nature Medicine.
Other benefits of having a hobby
Engaging in activities that you enjoy helps maintain positive mental health and improve your performance at work. It improves your creative problem-solving abilities, makes you more empathetic and helps you build better relationships with your coworkers.
Keeping yourself engaged during your leisure time is also a good way to reduce your stress levels.
If your hobby involves physical activity, it can help in maintaining your body weight, improving blood pressure and heart rate.
You get to meet like-minded people who enjoy doing the same activities as you do. This helps overcome any sense of loneliness, enhance your communication skills and improve your social life.
Can't make time for a hobby? Here's the trick
Lack of time is a common excuse given by many for their inability to take up hobbies to make time for a hobby:
It's ok if you're unable to take out time to do an activity that you like every day. Allocate a few hours every week or every month to do what you enjoy.
Use those small breaks during your work to indulge in your hobby, such as reading or listening to music.
Reduce your time on social media or television and utilize this time to do things that you truly enjoy doing.
Total Wellness is now just a click away.
Follow us on
Don't Miss Out on the Latest Updates.
Subscribe to Our Newsletter Today!
Post source: The Health Site