Who is Sylvia Hoeks?
Dutch actress and former model Sylvia Hoeks was born in Maarheeze, North Brabant, the Netherlands on 1 June 1983, making her zodiac sign Gemini. She has 45 acting credits, and is perhaps known best for portraying Luv in the 2017 action mystery movie "Blade Runner 2049", which starred Harrison Ford and Ryan Gosling, and was directed by Denis Villeneuve. It follows young Blade Runner K who's searching for a former Blade Runner that has been missing for 30 years, and the movie won 98 of its 249 award nominations, including two Oscar wins for Best Achievement in Cinematography and Best Achievement in Visual Effects.
Sylvia's today highly active in the film industry, and is currently shooting for the upcoming movies "Berlin Nobody", "Queen & Country" and "Hurricanna".
Education and early life
Sylvia was raised in Maarheeze by her Dutch parents about whom she's yet to speak in public, as they prefer to stay away from media; it's believed that her mother was a dentist and her father a college professor, but this is yet to be confirmed by Sylvia. She hasn't spoken about having siblings, and many of Sylvia's fans believe that she's an only child.
Sylvia grew up being interested in a number of activities, as she took dance lessons, played the piano and appeared in a number of her elementary and later high school plays, but she still remained focused on her education. She matriculated in 2001, and then continued her education at the Maastricht Academy of Dramatic Arts, from which she graduated with a Bachelor's degree in 2005.
Career as a model
Sylvia was 14 when she was scouted by Elite Model management, and her first photoshoot was for the cover page of the magazine "Elle Girl"; she spent her teenage years visiting many European countries to attend photoshoots, but still did well at school.
She launched her acting career in 2005, and then steadily transitioned to the film industry from modelling.
Sylvia's today fluent in Dutch, English, French and German, and has appeared in movies in all these languages.
Roles in movies
Sylvia's debut film role was playing Nicolette in the 2005 thriller "Staatsgevaalijk", and some of her following roles were in the 2005 drama "Frankie", the 2007 drama "Basilicum & Brandnetels", and another 2007 drama – "Duska".
The year 2008 saw her play Vanessa in the romantic mystery "Tiramisu", which starred Manon Alving and Cheryl Ashruf, and was written and directed by Paula van der Oest. It follows bookkeeper Jacob whose new client is famous actress Anne, and the film won two of its three award nominations. The remainder of the 2000s saw Sylvia appear in the crime comedy "Taartman", the mystery "Life Is Beautiful", and the historical action "De Storm", all released in 2009.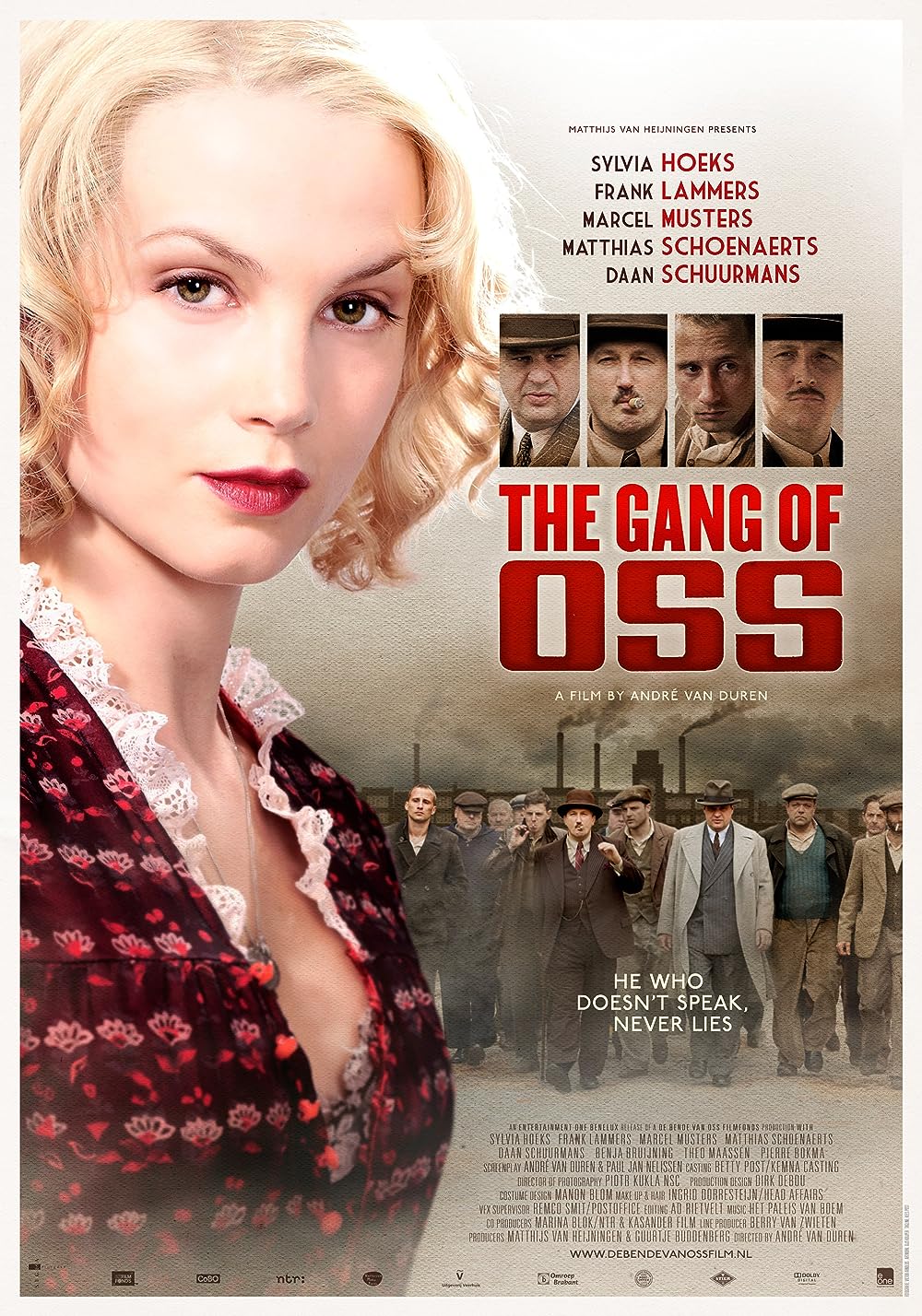 In 2011, she starred as Johanna van Heesch in the historical crime drama "The Gang of Oss", which also starred Matthias Schoenaerts and Frank Lammers, and was written and directed by Andre van Duren. Set in the Netherlands in 1938, the film follows Johanna who wants to leave the life of crime behind her, and the film won two of its eight award nominations.
Sylvia's also known for starring as Anna in the 2013 comedy "Bro's Before Ho's", which also starred Flip Van der Kuil who also wrote and directed the movie. It follows two brothers who've fallen for the same girl, and the movie won two of its six award nominations.
Sylvia's three most recent film roles have been in the 2019 short drama "The Journey", the 2021 thriller "Plan A", and the 2022 short drama "Oak Thorn & The Old Rose of Love".
Roles in TV series
Sylvia has only a couple of TV series roles, as she's been focused on appearing in movies since the launch of her career.
Her debut was playing Lucy in four episodes of the 2006 romantic drama "Gooische Vrouwen", and from 2005 through 2009, she played the lead character Sonja Looman in all 24 episodes of the romantic mystery "Vuurzee", which also starred Mark Rietman and Emiel Sandtke, and follows the lives of members of the Aslan family; the series won three of its five award nominations.
From 2009 through 2013, Sylvia played Ellie de Beer in three episodes of the comedy "'t Schaep Met de 5 Pooten", and from 2010 through 2014, she starred as Antje Zwager in 24 episodes of the romantic drama "Bloedverwanten", which also starred Henriette Tol and Derek de Lint, and was created by Job Gosschalk. It follows the story of a wealthy businessman who's just died, while his daughter Esther's inherited his fortune.
From 2011 through 2015, Sylvia played the main character Iris Steenhouwer-Hoegaarde in all 32 episodes of the action thriller "Overspel", which also starred Kees Prins and Guido Pollemans, and follows a lawyer who's begun dating a photographer; the series won four of its nine award nominations.
Sylvia's only two other TV series roles have been playing Claudia Gartner in two episodes of the 2016 thriller "Berlin Station" and Queen Kane in all 24 episodes of the action science fiction "See", which aired from 2019 through 2022.
Other credits
Sylvia sang the song "Zoek Jezelf" in the 2009 episode "Ellie" of the series "'t Schaep Met de 5 Pooten", and the song "Lullaby" in the 2021 episode "Rock-a-Bye" of the series "See".
Some of her recent talk-show appearances have been in "IMDb on the Scene – Interviews", "Steve Varley Show" and "The Salty Nerd Podcast".
Awards and nominations
Sylvia's won seven of her 11 award nominations. Some of her wins include a 2010 Festrola – Troia International Film Festival Silver Dolphin Award for Best Actress, for her performance in "De Storm", a 2011 Berlin International Film Festival Shooting Star Award and a 2011 Golden and Platin Film Award for Best Cast, for her and her colleagues' performance in "The Gang of Oss".
Love life and relationships
Sylvia shies away from speaking about her love life in public, and we thus know about only a single man whom she's been with.
Since 2013, she's been in a relationship with Boaz Kroon, a Dutch photographer whom she met when the two worked together on a photoshoot. Not many details have been shared about Boaz and it's believed that he's yet to have his breakthrough, but he's today followed by close to 15,000 people on Instagram, and has posted 21 pictures and videos onto the network, with most being the pictures of Sylvia which he's taken.
Some people on the internet have claimed that Sylvia and Boaz have recently become engaged, and that they'll be marrying by the end of 2023, but this hasn't been confirmed by the popular actress.
She's in a long-term relationship with Boaz Kroon as of August 2023, hasn't married and doesn't have children.
Hermosa • #SylviaHoeksFan • #DiVeDiOgGiFaNs •

Posted by Sylvia Hoeks Fan on Sunday, January 5, 2020
Interesting facts and hobbies
Sylvia had to shave her head for her role in the 2019 series "See".
She's quite popular on Instagram, as over 100,000 people are following her on the network today, on which she's posted 30 pictures and videos; most show her during her free time, whether she's spending it with her dog, her boyfriend or relaxing in nature.
Sylvia often volunteered at a local animal shelter during her teenage years.
She was so skinny at one point of her career that her fans believed her to be anorexic.
Sylvia likes to listen to songs by Michael Jackson and Elvis Presley.
One of her favorite actresses is Carice van Houten, and some of her favorite movies include "Black Book", "Instinct" and "The Affair".
Height, eyes and wealth
Sylvia's age is 40. She has brown hair and eyes, is 5ft 7ins (1.7m) tall and weighs around 130lbs (59kgs).
Sylvia's net worth's been estimated at over $4 million, as of August 2023.