A senior Rhode Island official announced his resignation on Thursday, wrapping up part of an investigation into accusations of misconduct, including racially and ethnically-based remarks and requests for special treatment, while on a business trip. in Philadelphia earlier this year.
The investigation focused on David Patten's visit to examine a state contractor, Scout Ltd., on March 10. Patten served as State Director of Capital Asset Management and Maintenance in the Department of Administration.
After the trip, Scout leaders wrote an email alleging what they described as bizarre and offensive behavior on Patten's part.
RHODE ISLAND SENATE APPROVES $14 BILLION FY2024 BUDGET PROPOSAL
On Thursday, Rhode Island Governor Dan McKee called for Patten's resignation.
A McKee aide pointed to a human resources investigation that he said uncovered "highly inappropriate conduct by Patten, which was disturbing, completely unacceptable and not representative of Rhode Island values ​​or the integrity of the workforce of our state".
Patten, through his attorney Michael Lynch, announced his decision to step down on Thursday, effective June 30.
Lynch said in a statement that his client's behavior was "the result of a medical condition called an acute stress event – culminating in various events over the past 3 years for which he has been treated and cleared to return to the work".
"While a simple apology is never enough, Mr. Patten does apologize to the citizens of Rhode Island," Lynch added. "He also apologizes to the many people in Philadelphia whom he met in March who were unfortunately the recipients of comments resulting from Mr. Patten's suffering in this acute stressful event."
Patten's alleged transgressions were detailed in Scout's email published in response to appeals from the Providence Journal and WPRI-TV.
During a conversation with a doctor who helped the poor, Patten allegedly asked, "When you go to bars at night, you have to run over women." The doctor said he was happily married. When Patten pressed him about his heritage, the doctor said he was Jewish, which apparently prompted Patten to say "mazel tov" and that he knew some Jews in Brooklyn, according to the email.
During a visit to a shoe store, Patten was offered sneakers. After receiving the pair, he reportedly said, "Are they made in China? I hope not, because I really hate China," then directed his attention to an Asian female staff member, saying, "No offense, honey.
The email said Patten had pressed other companies to let him take items for himself.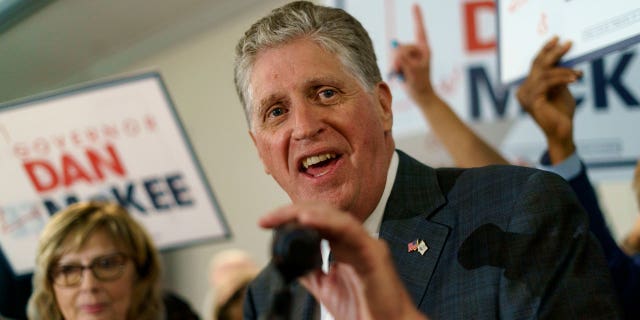 "Patten, on almost every visit, insisted on taking something home from the tenant, whether it was vegan cheese, hand-blown glass, or a pair of sneakers," the email reads.
Patten had been on paid leave for three days after the trip. As part of his resignation, the state will continue to pay for part of his health coverage through September 30.
McKee discussed the incident and Patten's resignation with reporters on Friday.
"We expect more from our state employees than the behavior for which Mr. Patten is now apologizing in Philadelphia," McKee said. "People who behave this way, I don't expect to be employed by the state of Rhode Island."
McKee said his hands were tied earlier in the process when the incident was being reviewed by human resources, adding that "the investigation was as thorough and expeditious as possible."
McKee said the situation began during the March 10 trip to Philadelphia when a report about Patten's behavior was sent to human resources, triggering the initial investigation.
Two days later, the state received an email from Scout alleging "bizarre, offensive" behavior that was "obviously sexist, racist and unprofessional."
On March 14, Patten's access to state computer systems and cell phones was locked down.
RHODE ISLAND COUNCILMAN BUSTED WITH CRACK COCAINE PIPE IN HAND NOW CHARGED WITH CHILD MOLESTATION
"I personally called Scout Management to apologize for the reported behavior," McKee said, adding that he also offered to speak to anyone Scout asked him to call as governor to introduce him as well. excuses.
In April, McKee said his legal office referred the case to the state police. That investigation is ongoing, he said.
On May 30, Patten's doctor cleared him to return to work. Instead, he was placed on paid administrative leave to allow the human resources investigation to continue, according to the governor.
McKee called for Patten's resignation Thursday. Patten announced his resignation and the human resources investigation was suspended.
CLICK HERE TO GET THE FOX NEWS APP
Patten was earning over $174,000 a year.