Parents in Ohio could soon see more taxpayer money in their pockets to help send their students to private and religious schools, or fund homeschooling, under changes to a voucher program that Republican state lawmakers and the governor must finalize by the end of the month.
Ohio has had some form of good since 1996, but learning setbacks brought on by pandemic-era education disruptions, cultural battles over gender and race, and a national movement for parental rights have led to a greater push in Ohio and other states to make them more widely available.
Proponents applaud it as expanding school choice, while opponents say such programs hijack public school funding and violate Ohio's constitution.
Here's where things stand and where they could go:
The current system
School vouchers are publicly funded and distributed through the Ohio Department of Education's EdChoice scholarship program. Children are eligible if they attend certain underperforming public schools or come from low-income households — at 250% or less of the federal poverty level, or about $75,000 a year for a family of four.
The program, which parents must apply for, provides $5,500 for K-8 students and $7,500 for 9-12 students to fund tuition.
More than 60,000 students use EdChoice as of 2023 at an annual cost of nearly $350 million, according to the Ohio Office of Budget and Management.
OHIO HOUSE PANEL GREEN LIGHTS $88.1B STATE BUDGET, $200M TAX CUTS
Competing proposals for change
In January, via his version of the state budget, GOP Governor Mike DeWine announced a proposal to increase income eligibility for vouchers to those at or below 400% of the threshold. federal poverty reduction, or about $111,000 for a family of four.
The Republican-dominated Ohio House approved its version of the $88 billion budget in April, which raised the eligibility threshold to 450% of the federal poverty level, or $135,000 for a family of four, sending the bill to the GOP-led Senate. discuss.
Clues to where negotiations might lead can be found in similar and competing voucher bills in both houses.
Dubbed "backpack bills" because funding follows students wherever they go, the two legislative proposals seek to make vouchers available to all Ohio K-12 students, regardless of location. whether their income, whether their schools are considered underperforming, and even whether they already attend private charter schools. .
The House bill would further extend vouchers to unregulated and unaccredited private schools and homeschooled students.
The costs of change
It is not entirely clear how much the state could spend on the program.
The budget office estimates that DeWine's proposal would add $50 million to the cost of the current program of nearly $700 million over the next two years.
The cost projection is based on scholarship program trend data and estimated places available at participating private schools for public school students.
Meanwhile, lawmakers analysts from the nonpartisan Legislative Services Commission estimate that expanding voucher eligibility could cost up to an additional $344 million over the next two years. This assumes that all of the approximately 30,000 newly income-eligible students already attending private schools take vouchers.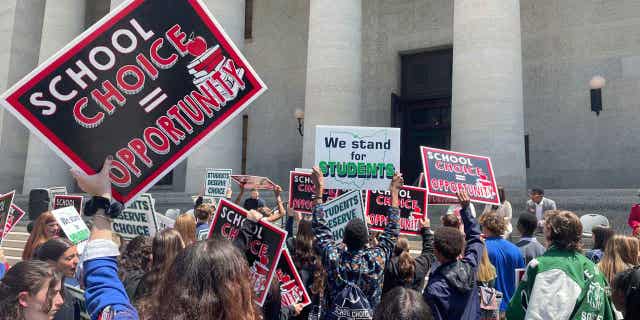 Analysts also estimate that the Senate voucher proposal would cost $528 million a year if the more than 90,000 newly eligible students already attending private schools used vouchers. This would not include eligible public school children.
But the House bill could cost $1.13 billion a year, the commission estimates. This figure includes more than 185,000 students already attending private or homeschooled schools, but not those in public schools.
OHIO GOVERNMENT. DEWINE SIGNS $13.5 TRANSPORTATION BUDGET AND RAIL SAFETY PACKAGE INTO LAW
No state analysis addresses the impact the additional costs might have on current public school funding.
Like DeWine's approach, lawmakers' proposals could have lower costs if not all students apply for vouchers. After all, many parents love their public school system and private schools lack the capacity to accept every newly eligible child.
Defenders and Opponents
Voucher advocates applaud them as a way to improve all Ohio schools by making different types of schools compete.
They also allow parents the freedom to choose, said Troy McIntosh, executive director of the Ohio Christian Education Network, rather than letting their ZIP code choose for them.
Opponents, including Democrats and teachers' unions, worry that as more state money is directed to private schools, less will be available to support public schools that serve about 80% of children. from Ohio.
Proponents of vouchers say they are not concerned about the price and believe the high cost estimates predict an unlikely outcome – that every eligible child will take a voucher.
But opponents point out that except for the administration's estimate, no analysis takes into consideration the cost of public school students using vouchers to attend private schools.
There are also accountability issues with how taxpayers' money is used for private entities, said Scott DiMauro, president of the Ohio Education Association. Unlike public schools, private schools don't have to tell the state how students behave or how they use funds.
CLICK HERE TO GET THE FOX NEWS APP
Prosecutions, investigations
A lawsuit on behalf of students and more than 100 school districts with the Vouchers Hurt Ohio coalition calls the governor's existing voucher program unconstitutional.
He argues that by providing funds to private school systems, the program violates the Ohio Constitution's call for a common school system that benefits all students, because private schools can refuse students based on their intelligence, athletic ability or religious faith.
Republican Ohio Attorney General Dave Yost previously tried to have the case dismissed on the grounds that he could not cite any specific harm to public schools as a result of funding for the EdChoice program. A judge dismissed the request for dismissal and the case remains pending.
The Ohio Senate recently asked GOP State Auditor Keith Faber to investigate how much money those schools used to fund the lawsuit. Faber agreed and sent out a survey asking public schools to disclose these funds.
But the move sparked an immediate outcry, with opponents of the vouchers calling the investigation an act of witness intimidation by lawmakers. Republican Senate President Matt Huffman called it a discovery of "what's going on."