"The North Dakota Senate passed a series of bills that would restrict the rights of transgender people in sports, health care, schools, workplaces, and everyday life.
Physicians would be prohibited from providing gender-affirming care to people under 18, and transgender girls and women would not be allowed to join women's sports teams in K-12 and 12. university, under bills passed with unvetoed majorities in the Senate and Loger. If the governor vetoes the bills, the Senate and House could override his ruling and turn those bills into law.
Democratic Senator Ryan Braunberger of Fargo told the Senate he knew he was gay since he was a boy, and that laws restricting LGBTQ freedoms contributed to his decision to attempt suicide.
"I was lucky to survive this suicide attempt – to be here – but many others didn't and won't," Braunberger said. If the bills pass, then "kids like me across the state will feel like the world is against them. They will end up feeling like they can't go on anymore.
Others who spoke out against the bills said the measures were often confusing, difficult to enforce, discriminatory and in violation of federal laws. But supporters said the bills would prevent children from making decisions about their identity that they later regret, and would strengthen the rights of people who are not transgender.
GOVERNMENT OF NORTH DAKOTA. DOUG BURGUM VETOES TRANSGENDER PRONOUN
Republican Senator Janne Myrdal, from Edinburgh, spoke in favor of the bills in the Senate and said more than a dozen states had passed what she called 'women's sports laws' that prevent transgender people from participating in sports.
"None of these states have lost federal funds. None of them have lost the ability to host NCAA tournaments," Myrdal said. "Claims that North Dakota is in danger of being punished are simply not proven."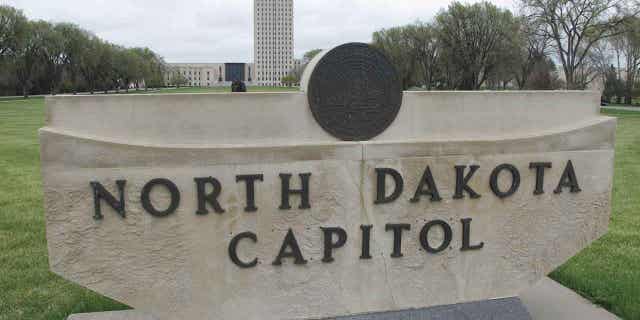 The Senate has also revived an effort to prevent teachers and government employees from recognizing personal pronouns used by a transgender student or colleague.
Originally, the restrictions on pronouns were in a controversial bill that Republican Gov. Doug Burgum vetoed last month. The Senate quickly reversed its decision, but the House was short by a few votes and the bill was dead.
NORTH DAKOTA SCHOOLS REQUIRED TO SHOW HIGH QUALITY FETAL DEVELOPMENT VIDEO TO DETER ABORTIONS
But on Monday, senators took language from the dead pronouns bill and inserted it into a restroom bill that would restrict transgender students' access to restrooms. The newly amended bill must be approved by the House and the governor to become law — or, if the House approves the bill with a non-vetoing majority, the governor's approval would not be required.
The Senate has amended other transgender bills, which return to the House for approval. Transgender people would be restricted from having access to bathrooms, locker rooms and showers in university dormitories, correctional facilities and penitentiaries. Another would restrict a transgender person's ability to change their gender identity on their birth certificate.
Republican lawmakers across the United States have taken several hundred actions aimed at rolling back LGBTQ rights this year.
CLICK TO GET THE FOX NEWS APP
At least 11 states have enacted laws restricting or prohibiting gender-affirming care for minors, but federal judges have blocked them in two states. About two dozen other states are considering bills to restrict or ban care.
President Joe Biden has denounced what he called hundreds of hateful and extreme state laws that target transgender children and their families. "The bullying, discrimination and political attacks that trans children face have exacerbated our national mental health crisis," Biden said. "These attacks are not American and must stop."