Foreign voters and Michigan military members will have more time to vote by mail in future elections under legislation Governor Gretchen Whitmer signed Monday.
All absentee ballots previously had to be received at the local clerk's office by 8 p.m. on election day. While military and foreign voters will need to mark their ballot on or before Election Day, their vote will count if the ballot is received up to six days after the election. The legislation gained immediate effect.
WHITMER SIGNS LAW FORCING STRICTER BACKGROUND CHECKS AND GUN STORAGE RULES
"Michigan service members are the best of us," Whitmer said in a statement. "I'm proud to sign this legislation expanding absentee voters' access to more bravely serving military personnel around the world."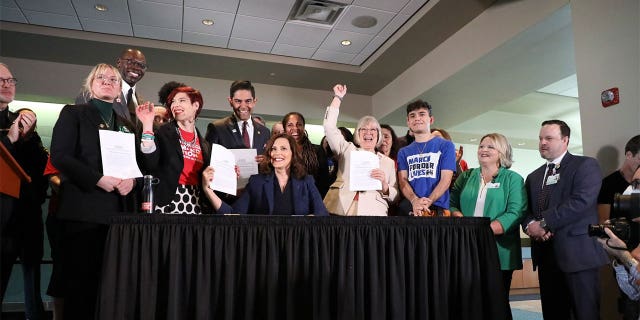 The legislation updates Michigan election law with the state Constitution after voters overwhelmingly approved a ballot proposal last fall that dramatically expanded absentee voting.
GOVERNMENT OF MICHIGAN. WHITMER REPEALS CENTURY OLD ABORTION BAN: 'LONG TIME'
In addition to additional time for military and foreign voters, the proposal also required nine days of early voting, ballot boxes for 15,000 voters in one municipality, and state-funded postage for applications and ballots per correspondence.
According to a report by the United States Election Assistance Commission following the 2020 presidential election, 4.6% of military and foreign ballots in Michigan were rejected, compared to less than 1% of all postal ballots. A total of 21,464 military and foreign ballots were counted in Michigan in the last presidential election.
CLICK HERE TO GET THE FOX NEWS APP
Michigan clerks are required to forward or email absentee ballots to military and foreign voters who requested one at least 45 days before an election.
FoxNews