Congratulations continue for Kierra Sheard-Kelly and her hubby as the couple just announced they're expecting a baby girl! The gospel singer is going to be a #girlmom!
Sheard-Kelly and her husband, Jordan, revealed their exciting gender news overnight via social media after the couples gender reveal party. Friends and family gathered at the special event when the couple launched colorful powder cannons…which, of course, erupted with pink smoke!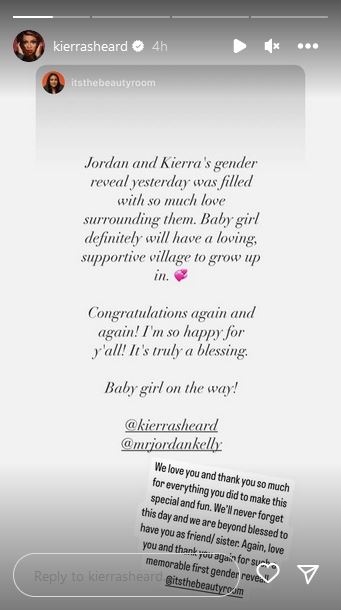 The "Something Has To Break" singer replied to her friend, Tiara Powers, @itsthebeautyroom, thanking her for making the gender reveal special.
"We love you and thank you so much for everything you did to make this special and fun," the new author wrote on a new post of Powers' story.
She continued, "We will never forget this day and we are beyond blessed to have you as our friend/sister. Again, love you and thank you again for such a memorable first gender reveal! »
This is the first child for the happy couple. In an exclusive interview with People Magazine, the gospel singer told the popular entertainment outlet that she and her husband, Jordan Kelly, 32, are "excited and blessed" to be pregnant after a series of miscarriages that "took [her] near the gates of death.
In the interview, Sheard-Kelly wanted readers to know that she always felt like "God is in charge" no matter the circumstances.
"God showed me again that he is responsible, and to continue to believe. I was afraid and worried, but God sent me constant reminders and affirmations. My husband's faith and statements replaced my lack many times.
Sheard-Kelly and her husband first met at church when they were children. Fast forward, and the pair got married in December 2020.
Along with the new baby girl on the way, Sheard-Kelly has a new book on the market, "The Vibes You Feel," in addition to a new album, "All Yours."
Congratulations to Kierra and Jordan. We can't wait to see pictures of the new baby girl!
Photo Credit(s)/Featured Image: Tierra Powers Instagram; Kierra Sheard-Kelly Instagram; Jordan KellyInstagram; Adobe Images