Most voters believe that artificial intelligence technology will change the way we live in the United States in the next few years. Whether this is a good or a bad thing remains to be seen.
In Fox News' latest national survey, voters were asked about their top reactions — minus the options for help — when they think about artificial intelligence.
Most often, the response was negative, with the main mentions being fear and danger (16%). Others think it's generally a bad idea (11%) or that they can't trust it (8%).
FOX NEWS POLL: VIEWS ON THE ECONOMY GO FROM BAD TO WORSE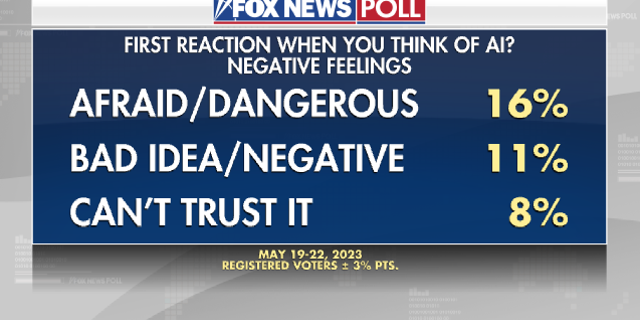 There are also positive feelings, although in smaller numbers. Voters say AI is innovative (7%), and they are either impressed or excited (6%) or cautiously optimistic (5%).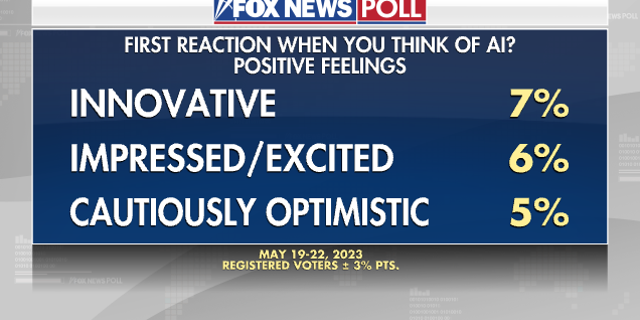 Seven percent say AI confuses them, 6% think robots, 6% have mixed feelings, and 4% think more research is needed.
Among most demographic groups, the most common response is fear or dangerousness, especially for women, Gen Xers, and Republicans.
"The power of AI and the speed of its development clearly weighs on the minds of many," says Republican pollster Daron Shaw, who leads the Fox News poll with Democrat Chris Anderson. "We're not quite at the 'red pill, blue pill' stage like Neo, but we're worried about where this is all taking us."
FOX NEWS POLL: VOTERS SAY BORDER SECURITY WORSE IN TWO YEARS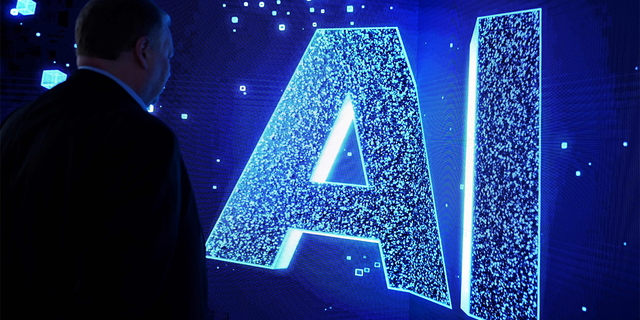 In a blog post published on Monday, OpenAI executives wrote, "It is conceivable that within the next ten years, AI systems will surpass the skill level of experts in most fields and achieve as many productive activities than one of today's greatest enterprises".
Yet only 4% of voters say AI makes them think it's a threat to jobs.
An overwhelming majority agree that artificial intelligence will change the way we live in the United States, and it will be in the next few years (86%).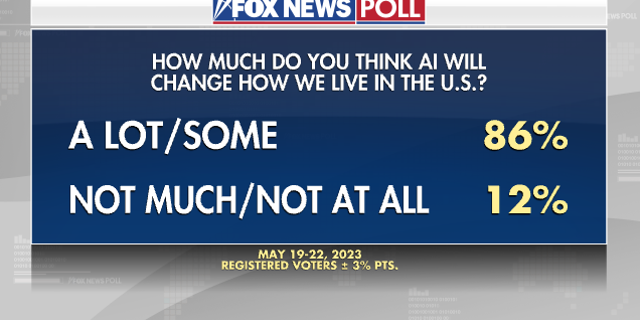 Forty-three percent believe a lot will change while 43% say just a few. Twelve percent believe it won't change much (9%) or not at all (3%).
More than half of voters are concerned about AI technology (56%), putting it in 11th place (and tied with climate change) among a list of 15 concerns. Women, non-white voters and voters over 65 are among the most concerned while men, white voters and voters under 35 are the least concerned.
CLICK HERE TO GET THE FOX NEWS APP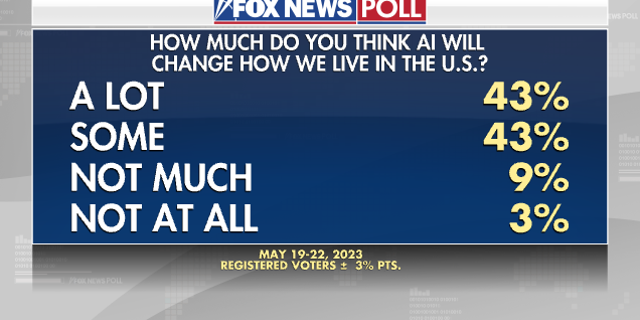 So who uses an AI technology like ChatGPT?
Overall, a quarter of voters say they have used it and 74% say they have not.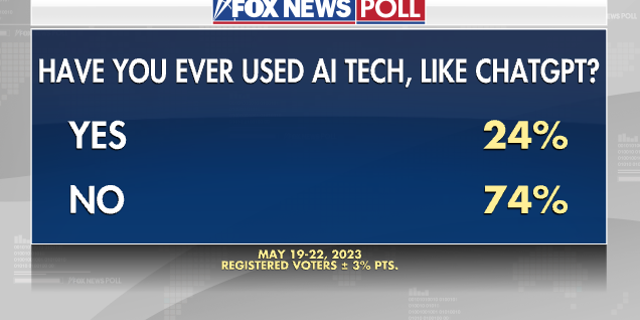 Voters under 35 (44%), men (30%), Hispanic voters (33%) and Democrats (28%) are more likely than voters over 65 (9%), women (19%), black voters (21%), white voters (22%) and Republicans (20%) to have used the technology.
CLICK HERE TO TOP LINE AND CROSSED TABS
Conducted May 19-22, 2023, co-led by Beacon Research (D) and Shaw & Company Research (R), this Fox News poll includes interviews with 1,001 nationally registered voters randomly selected from a file of voters who spoke with surveyors live on landline and mobile phones. The total sample has a margin of sampling error of plus or minus three percentage points.