Faith Jenkins and Kenny Lattimore stopped by Sherri earlier this week to chat with Sherri Shepard and also to share new photos of their baby girl!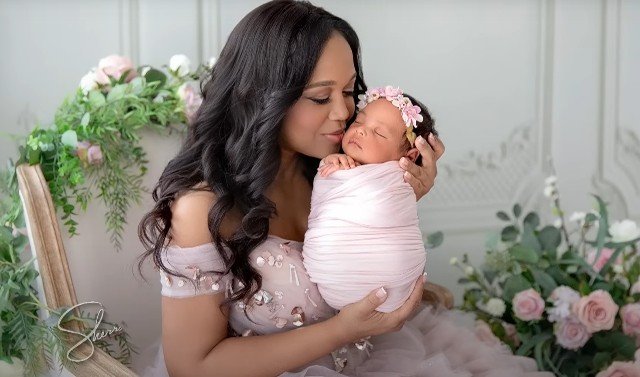 Kenny and Faith welcomed their daughter in January but took great care not to reveal her face to the public. "My family is in Louisiana," Faith shared with Sherri. "After Skylar was born, I wanted my mom and family to meet her before I posted pictures everywhere," the new mom shared.
"So when she was eight weeks old we put her down [to meet the family]", Faith said of Skylar's first visit with her mother's family. "Everyone was there except my Aunt Freeda (?) because she can't hold water," Jenkins mused. "We didn't invite her because she would put Skylar on Facebook."
Sherri, happy to hear that Faith's mom was meeting her granddaughter for the first time, couldn't help but indirectly ask to see pictures of baby Skylar. The talk show host almost cried when the photos appeared on the LCD screen behind her.
"Is that the baby," Sherri asked. Audience members were also overwhelmed with excitement.
This year will be the first in which Faith Jenkins will celebrate Mother's Day as a mom. Judge took to Instagram a few weeks ago to share her thoughts on motherhood.
"A few thoughts on my new life in this capacity," Faith began. "It was on that day, 11 weeks postpartum, that I realized I couldn't fit a single pre-pregnancy shoe in my closet anymore," Jenkins revealed. "The clothes, I expected, but the shoes…why the law," the new mom jokingly asked.
Faith was happy to stay home with her daughter, but also happy to get back to work so baby Skylar could see both sides of the coin. "I'm happy to be back at work and Skylar can see her mom in action," the famous mom told her fans.
Mother's Day in the United States is this Sunday (May 14).
Photo: Sherri/YouTube