Dancehall veteran Elephant Man says he's ignoring Bounty Killer's rude remarks about his lack of public reaction to the death of fellow Scare Dem Crew, Boom Dandimite.
Earlier this week, Bounty Killer shared several photos and videos of him attending the 70th birthday party for Boom Dandimite's mother, Mama Cherry. Beenie Man, Queen Ifrica and several other artists showed up at the event.
Bounty Killer also shared an emotional tribute to Boom Dandimite as well as a look back at the Scare Dem Crew before embarking on a successful solo career. It seems the Grung Gad was upset that Elephant Man didn't publicly react or attend the event, which also celebrated Dandimite life.
A comment from a fan elicited a sour response from Bounty. "Killa stays strong, I can't believe humans can't forgive and forget. Elephant can't even send condolences no matter what happened back then," a commenter reacted to the video back.
"The elephant is a real animal," Bounty Killer said.
He continued to hit the artist, writing: "Miss Yvonne passed away from her mother, and he did not say tear up no feelings or emotions, ask her children ntn a surprising and wicked youth you reap all that you sow well he will reap all he sowed like all of us God does not sleep [if] boom never brings me a studio that Ele couldn't hope he remembers," Bounty said.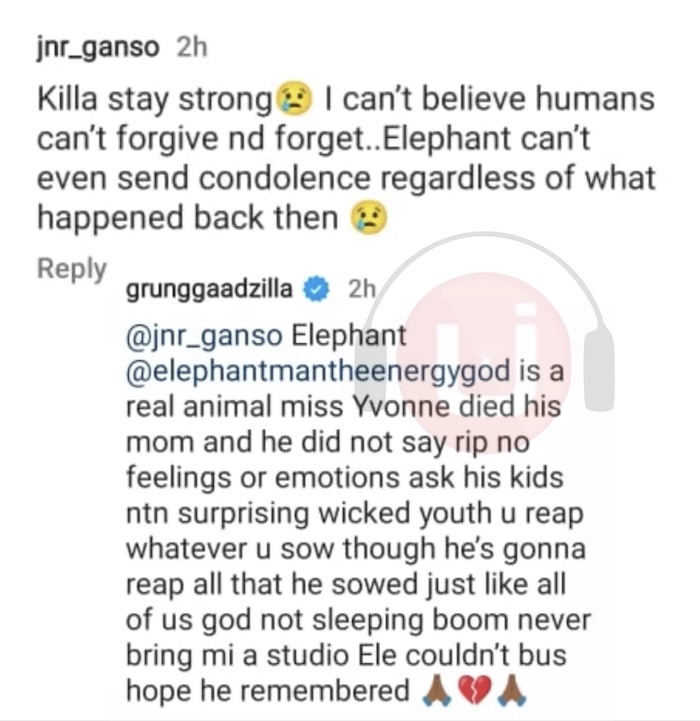 Elephant Man hasn't publicly reacted to Killer's remarks, but in a Jamaica Observer article, he revealed that he was godfather to Dandimite's two children and had also been to Canada, where he is on tour. .
"Mi nah embrace negativity," the artist told the newspaper.
Elephant Man added that he was in mourning and was shaken by the loss of his good friend.
"How was the man not hurt by Dandmite dying? How did the man not mash up? How did that fi no shook the man? Memba mi hear say Dandimite crash and good and then everything all of a sudden, dude hears Dandimite dead, that no nonsense naughty dude, wah yu talking about bredda?said a hurt Elephant Man.
The artist also said his social media presence is limited because he doesn't live in space.
Elephant Man, Dandimite, Harry Toddler and Nitty Kutchie all formed the Scare Dem Crew in the 90s. The artists were friends before Bounty Killer hit the scene, and after Bounty found success he made sure that the crew were spinning and attracting attention to the point where all artists could launch successful solo careers.
Their hits include songs like "Many Many", "Pure Gal", "Badman Nuh Dress Like Girl" and many more.
Elephant Man says he has been in touch with Dandimite's closest family members, all of whom are mourning the immense loss.
"Dandemite's passing hurt me so much, mi pon the phone with the sister man, him bredda, his daughter, his baby mama, his dad and how it shook everyone."
He also revealed that since his accident in early April he has been in contact with Dandimite's family and was shocked when dancehall heavyweight Sharon Burke called him to say Boom was in a coma after arriving in the States. United Saturday. He recalled that Papa San prayed for his recovery, but sadly the artist passed away on Sunday morning.
He added that he and Dandimite had come a long way through many struggles and seemed to be taking a hit on Bounty Killer, whom he accused of trying to make himself look good in a bad situation by chasing the "hype" of Dandimite's death.
"It shook man, and ray, so mi no haffi come talk nothing, Dandimite ah mi bredda, we write songs, we travel together, mi a stranger and mi sleep a Boom yard," he said. he said adding that he was praying for Boom's soul.