California is closely monitoring enforcement of state housing laws at the local level, as state officials work hard to meet housing demand.
Governor Gavin Newsom's administration and California Attorney General Rob Bonta jointly sued the Sacramento suburb of Elk Grove for failing to approve a project for the homeless.
Elk Grove, Calif., argued that the homeless apartment complex project did not qualify for a fast-track under a 2017 housing law.
When developers in the California town of Elk Grove launched two new housing projects last year, the proposals seemed to have a lot in common: Both would build new homes in a scenic part of town affectionately known as "old town" for its attractive stretch of historical monuments.
One project was for people who could afford to buy homes at market rates in a state where home prices are among the most expensive in the country. The other project was aimed at the homeless. City officials approved the market rate plan. But the homeless project has stalled as officials in Sacramento's growing suburb argued it was ineligible for a fast-track under a 2017 housing law.
On Monday, California Attorney General Rob Bonta and Governor Gavin Newsom's administration jointly sued Elk Grove, arguing city officials broke the law by denying the project and accusing them of discriminating against low-income families. income.
FORMER SAN FRANCISCO FIRE COMMISSIONER HOSPITALIZED IN HOMELESS ASSAULT SHARES VIDEO OF PIPE ATTACK
The lawsuit escalates a dispute between state and local governments over how many housing projects cities must approve and how quickly they must build them. California, the nation's most populous state, needs to build 2.5 million homes by 2030 to meet demand, according to the California Department of Housing and Community Development. But the state averages only about 125,000 new homes a year, nearly two-thirds less than is needed.
Newsom, a Democrat with potential presidential aspirations, and Bonta — a potential 2026 gubernatorial candidate — have aggressively monitored local enforcement of the state's housing laws. Last year, Newsom briefly withheld $1 billion in funding from local governments because he was unhappy with their plans to reduce homelessness. In March, the state sued the city of Huntington Beach and accused its leaders of ignoring state housing laws requiring them to build 13,000 new homes over the next eight years.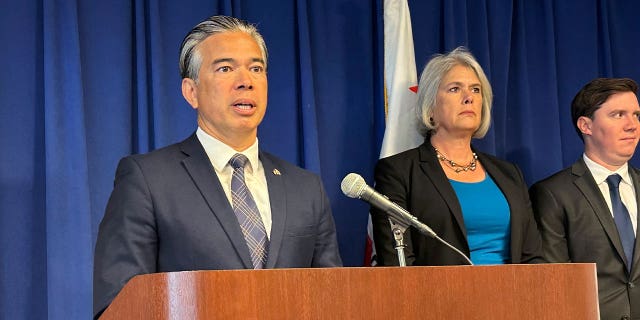 Monday's trial was different in that the dispute involves a single 67-unit apartment complex, indicating how far state officials are willing to go.
"It may seem small, but every time we say no to housing, we make homelessness worse in California," said Megan Kirkeby, deputy director of housing policy development at the California Department of Housing and Community Development. .
Elk Grove Mayor Bobbie Singh-Allen said the city didn't reject the project for people currently homeless, it just decided it wasn't eligible for a fast-track under a 2017 California housing law. Karen Hallock, an attorney for the project's developers, disputes this, saying the city has adamantly denied the project.
Singh-Allen said the city is "doing its part to support affordable housing," noting that more than 1,100 new affordable housing units are in development there.
"The town of Elk Grove is not a bad actor," she said.
OREGON PAPER DEPLOYS HOMELESSNESS CRISIS, HIGH TAXES, VIOLENCE DRIVING RESIDENTS TO OTHER STATES
The dispute centers on Oak Rose Apartments, a development proposed by Excelerate Housing Group, a Long Beach-based affordable housing company. The project would include 66 permanent apartments for people experiencing homelessness, plus one for a manager. This would include on-site support services such as mental health counselling, job placement and addictions help.
A state law passed in 2017 says that if a city doesn't build enough new housing to meet state-approved goals, developers can build projects without going through the normal local government approval process. Developers should always follow certain rules, including a city's housing standards.
The Elk Grove Planning Commission rejected Excelerate's plan last year because it said having residences on the first floor violated the city standard for that part of town. Attorney General Bonta argues that these standards are not objective, noting that the city approved a separate project for the same neighborhood that included market-priced housing on the first floor.
CLICK HERE TO GET THE FOX NEWS APP
"Clearly this project was turned down because of the residents targeted," Bonta said. "The main difference between the two projects is that one creates fewer homes at a higher price, the other creates more homes that are more affordable."
Singh-Allen said the city-approved market rate project went through a different review process that gives the city more discretion about when to apply its standards.
The state's 2017 housing law is set to expire at the end of 2025, though the Democratic-controlled legislature is debating whether to make it permanent. State Senator Scott Wiener is leading the effort, noting that the law has resulted in about 18,000 new homes since it was passed. But the bill faces strong opposition from some unions because it would not require a certain percentage of construction workers to have completed a state-approved apprenticeship program.
"We're trying to take the policy out of housing approvals," Wiener said. "When accommodation is approved that meets all of our standards, you get your license and you don't become political football. This is called good government.